Merry Christmas! Frohe Weihnacht! Feliz Navidad!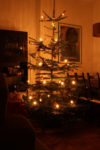 The last door of the advent calendar, after a lot of reviews and commentary articles, I want to share some of the miniatures and vehicles that I painted this year.
The captured KV2 / PzKpfw 754(r) is finished. I did final touches on the armour, and finished the tracks. After painting the colours, drybrush and wash, i added homemade mud-paste and model gras.
Winter is coming. I finally completed the 35 Points of Khadorians. I really pushed myself to finish these miniatures ... and i had the deadline for the next Tabletop Insider 😉
Welcome to the new year and a rather bold start with some painted miniatures. Let's start with some terrain, i did first colors on the lovely Renedra Shed. It's amazing to see how good drybrushing works on these kits. That is just black primer with 3 different drybrushs (different colors for the roof and planks).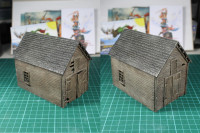 Buzy Sunday. After a couple of hours spended on office and house duty, i got back to my desk and did some progress on the open projects. I am currently preparing the Minairons Hispano Suiza for a review, and as you do with resin kits, i gave it a good wash. Beside that, i grabbed the brush once again and did some further painting.
A brief sign of life after this exhausting weekend. I build the new Eldar wraithguard earlier this week. The kit is quite nice with a lot of options, but the price is pretty ridiculous ... never the less, thanks a lot to Christian and Alexander from MiniWargames Wuppertal for the Box.