A guest article by Daniel / DinoTitanEdition on his Blood Bowl Underworld Team, the Skycastle Titans.
"Boss! Boss! Da ogres are gon'!"
"What do you mean ´da ogres are gon´? How iz we suppos'd to play now? And more important – how qill we survive dat?"
"EEEEK…sorry-sorry coach goblin boss – we from clan Rigens coincidence-coincidently heared that. We too want-want to field a team. Why-why not play together?"…
And with this we welcome you to a small team showcase at the Chaosbunker! For more than a year now, the re-release of Blood Bowl has been out now – enough reason take a look at a few team project from the community.
Originally it was my plan to field an ogre team, but as fast as I did progress with the little greenskins, the more difficult it was with the ogres themselves. When I realized that these were still too much of a challenge for me, my old friend Swarley offered me the remains of a Skaven sprue and two stormvermin. The idea for an Underworld team was born and I started to expand the goblins with a few rats.
In late June, just before my vacation, Games Workshop announced another wave of made-to-order Blood Bowl teams on Warhammer Community, among them the Halflings.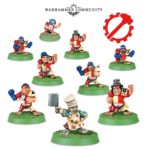 Games Workshop would offer the 3rd edition Blood Bowl Team of Halflings from 1994 for a week. It was sculpted by Gary Morley back in the day (I thought those were done by the Perrys, as they took care of the halflings for the regular Warhammer range) and the miniatures aren't bad for a set of more than 20 year old sculpts. They added the cook from the halfling hot pot catapult as the special staff to this team. That guy was sculpted by Alan Perry.
After the 2016/17 relaunch of Blood Bowl, I took the time to take a look at the current status of some of my teams and get a feeling what to do next.
As I already have quite a lot of teams and miniatures for the game around, there was no need for the whole new box, so I managed to buy just the pitch along with rules etc. on eBay. I have the 2007 (?) metal team around, but wasn't to happy as I missed a few of the mold lines prior to priming and started out with a too dark colour. So they got the special treatment and I stripped the colours, for a new beginning.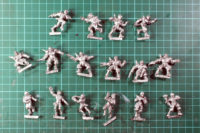 On SuperBowl Sunday I got in my car and headed north towards the 5th Narrenball 2017 - a Blood Bowl Tournament and official NAF event.
During the ride I was greeted by a wall of fog in the Siegerland. A bit later I arrived in Remscheid, at the Rack-n-Roll Billard Cafe.
Most of you probably noticed the drastic change at Games Workshop in the last few month and it seems that their pace in this "conversion" is quite fast.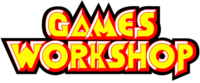 Still many people are irritated by the transition of Warhammer Fantasy into Age of Sigmar. You have any reason to be, if you're looking for mass combat with large regiments, Age of Sigmar won't be your choice. But remember what is one of the biggest problems in our hobby. The high barrier of entry. And this high barrier is a reason for many other systems to not succeed.
What better day to take on the Evualation of Blood Bowl than just after Super Bowl 50? And with the re-boot "around the corner", it is about time.

As Blood Bowl is classic, let me give you a short introduction. Blood Bowl was released for the first time in 1987, and brought a brutal fantasy version of American Football into the world of Warhammer. More a board game than a tabletop, it is played with 11 miniatures on each side, and up to 16 per team, chosen from the different races of Warhammer.
The rumours are spreading and growing wild, so far only one thing was confirmed - Games Workshop is re-founding a studio for the Specialist Games.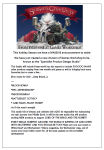 Is this a reason to get exited? Yes and no. Why both answers? It depends on what you are looking for.
A bit of a mixed posts for today, i did a bit of painting for a friend of mine, Kschenk. A repaint of a paintball mask. The mask was simply black with a slight silver drybrush, but he wanted it to look more like the mad max villains mask, so i grabbed P3 Hammerfall Khaki along with Reaper Linen White and got busy. As far as i know, Klaus will add tubes to get even closer to the look of Immortan Joe.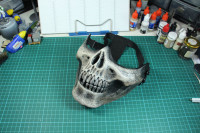 The first weekend in March was the German Open in Field of Glory. As the local wargaming scene is quite strong in Field of Glory (and warmachine, in both systems the championship winners come from this area), the tournament was held on a nearby castle, the Marksburg.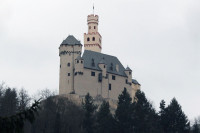 Project Idea
Blood Bowl was my first love in tabletop miniature games. I was 11 and got it for christmas and i just loved that game, i played it a lot ... a lot! And until today, nothing was able to challenge my fascination for that game. Dreadball is nice, but it isn't Blood Bowl and will never be.
Current status

Human Team
I own two human teams, Athletic Altdorf and the Carroburg Cardinals.
Athletic Altdorf is a team by Black Scorpion miniatures, the old ones, casted in lead.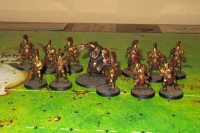 The other one Carroburg Cardinals is the newer lead team by Games Workshop. And in addition i have a few Star Players, among them the first miniature after a 7 (!) year break from Painting and one of my first miniatures ever, Siggi the Mighty Zug. And Griff Oberwald in Mk 1 and Mk 2.
Ork Team
Dwarf Team
High Elf Team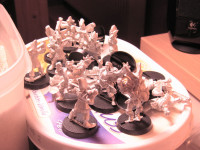 Skaven Team
Next Steps