A guest article by Daniel / DinoTitanEdition on his Blood Bowl Underworld Team, the Skycastle Titans.
"Boss! Boss! Da ogres are gon'!"
"What do you mean ´da ogres are gon´? How iz we suppos'd to play now? And more important – how qill we survive dat?"
"EEEEK…sorry-sorry coach goblin boss – we from clan Rigens coincidence-coincidently heared that. We too want-want to field a team. Why-why not play together?"…
And with this we welcome you to a small team showcase at the Chaosbunker! For more than a year now, the re-release of Blood Bowl has been out now – enough reason take a look at a few team project from the community.
Originally it was my plan to field an ogre team, but as fast as I did progress with the little greenskins, the more difficult it was with the ogres themselves. When I realized that these were still too much of a challenge for me, my old friend Swarley offered me the remains of a Skaven sprue and two stormvermin. The idea for an Underworld team was born and I started to expand the goblins with a few rats.
In late June, just before my vacation, Games Workshop announced another wave of made-to-order Blood Bowl teams on Warhammer Community, among them the Halflings.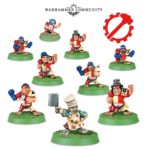 Games Workshop would offer the 3rd edition Blood Bowl Team of Halflings from 1994 for a week. It was sculpted by Gary Morley back in the day (I thought those were done by the Perrys, as they took care of the halflings for the regular Warhammer range) and the miniatures aren't bad for a set of more than 20 year old sculpts. They added the cook from the halfling hot pot catapult as the special staff to this team. That guy was sculpted by Alan Perry.
To stay with the Mechanicus topic, this review covers the Tech-Priest Dominus by Games Workshop, usable for Skitarii and Cult Mechanicus in Warhammer 40.000.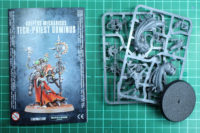 The miniature itself is available in two ways, as a single clamshell blister for 29 EUR / 22 GBP, or as part of the Start-Collecting Adeptus Mechanicus Bundle for 65 EUR / 50 GBP. The coloured print is the back cover of the blister and instruction leaflet in one.
To continue with the Triumvirate of the Imperium, the next miniature that I'll be taking care of is the Archmagos Dominus Belisarius Cawl. My take on Inquisitor Greyfax can be found here.
Games Workshop released the box last week at a price of 65 EUR / 50 GBP. As I already wrote about the box, I won't go into detail again. But I want to add a few details, that I noticed while working on this review.
Since today the Triumvirate of the Imperium is available, a combined heroes set with 5 miniatures in total, the Archmagos Dominus Belisarius Cawl, the Inquisitor Greyfax as well as St. Celestine, with her entourage of Eleanor and Genevieve.
Most of you probably noticed the drastic change at Games Workshop in the last few month and it seems that their pace in this "conversion" is quite fast.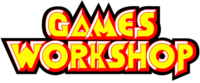 Still many people are irritated by the transition of Warhammer Fantasy into Age of Sigmar. You have any reason to be, if you're looking for mass combat with large regiments, Age of Sigmar won't be your choice. But remember what is one of the biggest problems in our hobby. The high barrier of entry. And this high barrier is a reason for many other systems to not succeed.
The rumours are spreading and growing wild, so far only one thing was confirmed - Games Workshop is re-founding a studio for the Specialist Games.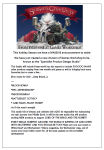 Is this a reason to get exited? Yes and no. Why both answers? It depends on what you are looking for.
Next up, another regular at many shows, is the Fantasy Warehouse from Iserlohn.
Morrs Garden and some parts of the Aegis Line / Bastions were still in sprues, as i found them.
I like the Morrs Garden kit, as it does not only fit into Warhammer Fantasy, but might be used for any Dark Fantasy or even Pulp settings. Do you remember the scene in Return to Castle Wolfenstein, when you fought Heinrich I at the cemetery? Let's take a look.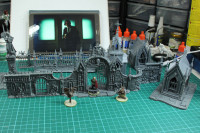 In 2004 i visited the Warhammer World for the third time, and here are a few impressions from back then.
The Bugmans Bar and Warhammer World were re-designed.  About the Bugmans Bar, as the Games Workshop Employees eat there as well, it has quite a selection of food, it's tasty and there are even some healthy options. Beside that, decent prices and broad choices of beverages.
And sorry for the mediocre image quality, i just had a small powershot back then.