Salute began early for us, after the day-trip to Nottingham, we we're ready and waiting at 7 a.m. at Cambridge Station.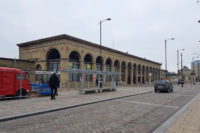 Taking the Great Northern towards London, we had some time on our hand. It takes roughly an hour and gets you to Kings Cross without a stop. Spending that time on going through our "what-to-see", "what-to-try" and "what-to-buy" lists again and playing a match of Condottiere. Perfect size for the train.
Last thursday, on April 12th, Operation Sealion 2018 started. We went to Cologne Bonn Konrad Adenauer Airport, for our four day trip to the UK for Salute and a brief day trip to the Leadbelt.
There are a couple of ways to get to London. Two years ago and before that, we did the Salute as a day trip, grabbing a flight from Cologne to Stansted or Frankfurt to Heathrow. Flying from Germany takes roughly 1 to 1,5 hrs and sets you back between 70 - 150 Euro, depending on who you fly with. Just for Salute a rental car would only make sense, if the group is bigger than two people, as the London Underground is superb and reasonably priced. Only the shuttles ex-airport are sometimes a bit expensive. As we headed north to Nottingham, that question was already solved. Rentals are quite cheap in the UK, you can get cars for around 30 Euro per day. We paid just over 90 Euro for the prolonged weekend incl. unlimited miles. For rental cars I usually go with Budget, a daughter company of Avis. They offer good and uncomplicated service at reasonable quotes. The Honda Jazz was brand new, but not that much fun to drive and had a unpleasant driver seat.
Ryanair changed a lot in the last few months, along with strict limitations on the cabin luggage and checkin in. If you book all the excluded things to get back to a regular ticket, you end up with a price around the area of a Lufthansa ticket from FRA to LHR. Our flight was delayed by almost two hours due to mist, and on arrival we met quite a different weather compared to Spain two weeks ago.
It is time to take another approach and try to loot the Island for pewter, plastic and resin! Thursday we head over to the UK, for a short trip to the "Leadbelt" of Nottingham as well as paying a visit to the Salute on saturday.
Salute is the largest wargaming event in the UK, hosted by the South London Warlords at ExCel London on April 14th. Crisis in Antwerp is hard competition in size to this event, as it is larger on floor terms, but Salute is more international and has the benefit of being british homeground.
So I've completed my four part coverage on the Salute, and here is my personal conclusion and "haul" from the event.
The South London Warlords put a lot of effort into the "Swag bag" and the show in general. So along with the ticket, you receive the limited miniature by Westwind Miniatures and a few freebies, in this case a sprue from Maelstrom's Edge. At the info desk you could stock up on older event stock, like badges, t-shirts, dice and miniatures. I used the chance, got last years miniature by the perrys, the D-Day anniversary shirt, along with older events dice and badges.
A special highlight for the last part. What kind of a show would it be, without the Perrys? They were there themself, with a wide stand only covering their plastic sets (Dave Thomas takes care of their blisters at show - who was at Salute as well). The novelties were anglo-centric with the Cape Frontier Wars.
Right next to the Perrys were Renedra, who take care of the production of plastic kits for half the wargaming business. It was great meeting the family behind the company, so lovely people. They showed the new castle / tower kit, and it was selling like hotcakes. No wonder for me, look how impressive it is.
Among the most prominent wargaming companies is Mantic for sure. The colourful stand was crowded and the deadzone table caught my eye. And then there was this enormous Kings of War battle going on - it was so incredibly huge. Simply insane.
After the introduction on Salute, welcome back on Part Two on Tuesday.
As Salute is an international event, there are companies from all over the world and of course from Germany as well. The well known Pirates from Freebooter Miniatures participated once again at the Salute. And of course, no show without some nifty releases - bringing small ships and boats to Freebooters Fate, individually and as a special bundle offer.
Saturday, April 16th, a very early morning, i grabbed my flight to London, got on the plane, jumped into the rental after landing and headed for ExCeL London.
At 08:30 in the morning, a solid 1,5 hours prior to opening, there was already a solid queue and quickly, just after 09:00 the queue doubled.
Just booked my flights for Salute. April 16th it is, at ExCel exhibition hall in London. So pack your bags, grab your pounds and get ready to spend some of that quids on plastic, resin and lead.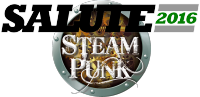 I will bring my dslr and cover the show for you, but beforehand a few teasers and previews on what we can expect and what i am already excited about.