The second campaign supplement for Bolt Action Second Edition leaves the road of historic events and goes for the What-If scenario of the Operation Sea Lion. These were the plans of the german forces to invade Britain.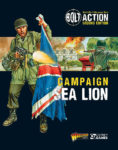 Sea Lion is another big expansion for Bolt Action, at least page-wise. At 124 pages it shares the lead with Battle of the Bulge. After covering the desert of Africa, the harsh winter of the Ardennes and several parts of the western front, the battle is brought "home" with Operation Seelöwe / Sea Lion. The operation was real, but never came to existence. There were severe plans by the Nazis to invade Britain in 1940, but the plans were never moved to realisation. This campaign book is set at the new price range of 19,99 GBP or 30 USD, which translates around 25 EUR.
In december I already covered the Rubicon multi-variant kit of the M10/M36 Tank Destroyer, now it is time in this review to take a closer look on the M10 Tank Destroyer by Warlord Games / Italeri.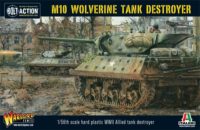 This year Warlord Games brought along a lot of love for the British Armies of Bolt Action, beginning with the Sherman V in early summer 2016.
Part of the Third Quarter 2015 releases is the A15 Crusader, including 6 different variants from Mk I to MK III, as well as the AA and CS versions.

Da wären dann noch die nächsten Alliierten, das Commonwealth / Großbritannien. Ich habe hier Figuren quer beet, reguläre Truppen genauso wie die imposanten Perry Desert Rats. Mir gefallen die Panzer der Briten, wie der Churchill und Cromwell, daher habe ich mich damit auch eingedeckt. Der Fuhrpark der Desert Rats und der Long Range Desert Group ist noch nicht komplett, da gibts noch ein bisschen Einkäufe zu tätigen.
21st Army Group / Theatre Selector – "Normandy 1944"
Churchill Mk II (Warlord Games)
Cromwell (Warlord Games)
Sherman Firefly MkVc (Die Waffenkammer)
Sherman M4A4 Mk V (Die Waffenkammer)
Universal Carrier (Warlord Games)
Truppenanforderungsliste:
Cromwell Zug (5 Panzer),
Desert Rats / Theatre Selector "1942 - Operation Lightfoot"
Crusader (Die Waffenkammer)
Daimler AC (Warlord Games)
Valentine Mk II
Matilda II
Long Range Desert Group / Theatre Selector "1930-43 Behind Enemy Lines"
A serious couple of Jeeps