Frostgrave was recently released by Osprey and Northstar Miniatures and the Nickstarter for the expansion, Thaw of the Lich Lord, is online and already through the first stretch goals. As i am still struggling, if i can resist to pledge for the expansion before i even started building the basic rules and two warbands ... it's a a hard decision 😀
Inspired by Sigur (from Battle Brush Studio), i got in touch with one the local laser cutting companies and got myself the basics structures for some dark age terrain. I added a few stir sticks for coffee to give it a bit more depth. Quite a funny job and it worked out nicely.
So while watching a couple of movies (The magnificent seven and An honest liar) along with binge watching the 2nd season Bojack Horseman on netflix a few weeks ago, i continued working on the Spartan Scenics.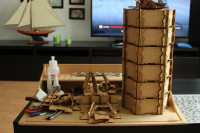 A while ago, actually roughly 2 years ago, i bought over a couple of month the majority of the Spartan Scenic Sci-Fi System boxes. Beginning with the Starter Set in September 2013.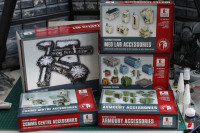 Two of these 3 hour movies later, i really made some progress. I am currently building some Spartan Scenics, and started with The Great Escape and some of the hallways.
The Spartan Scenics can mostly be assembled without glueing just by sticking it together. They have a tight grip, in many cases too tight, so you need to file down some edges and parts, if you don't want to damage parts by using too much force to put them together. That makes the whole process incredibly time consuming. Beside that the assembly constructions are unclear in many parts, you get one A4 sheet for all of the sets there are - all of them on one single sheet. They don't rotate, they don't go close ups, so some parts, especially on the larger rooms are assembled by guessing, assuming and seeing that is left when you build other stuff. That is not really a good way to go.
A brief sign of life after this exhausting weekend. I build the new Eldar wraithguard earlier this week. The kit is quite nice with a lot of options, but the price is pretty ridiculous ... never the less, thanks a lot to Christian and Alexander from MiniWargames Wuppertal for the Box.