Until Monday, July 9th 2018, Mantic is giving a 25% discount on all Dreadball teams. For us enough reason to launch a series of Dreadball focused articles, where we will introduce some of the teams and review both editions of the game. We`ll start with Darkhand's Disciples, a team of Marauders.
The Disciples are made up of ex-pirates and convicts. It is named after the notorious Orc general and raider Darkhand, who took so much pleasure in the game that he quickly set up an own one. Although Darkhand is no longer the owner of the team, the name persists.
Playwise Marauder teams consist of Guards and Jacks, while they don`t have Strikers at all (the type of player who is most likely to score points). While in the first edition of Dreadball they were able to keep up relatively well with the better teams, they find themselves more in the midfield in the second edition, as the Jacks got better, but with the amount of beafier teams, the Orcs got a little weaker.
It is time to take another approach and try to loot the Island for pewter, plastic and resin! Thursday we head over to the UK, for a short trip to the "Leadbelt" of Nottingham as well as paying a visit to the Salute on saturday.
Salute is the largest wargaming event in the UK, hosted by the South London Warlords at ExCel London on April 14th. Crisis in Antwerp is hard competition in size to this event, as it is larger on floor terms, but Salute is more international and has the benefit of being british homeground.
The annual event hosted by the Heidelberger Spieleverlag at Stahleck Castle for supporters, colleagues and friends was this weekend. So where to begin? With a parking lot picture of course.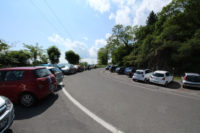 Mid of the january we continued our painting projects. Flo on his - now enlarged - Mars Attacks collection, and i continued on the spaniards. I've added a few pilgrims as another 1 point selection to my crusaders. Those are perry miniatures codes CU26 and CU27.
A good friend of mine got himself a great deal on Mantics Mars Attacks at a local gaming store. He's a board gamer and found himself now in possession of miniatures, and asked me if i could help him getting started. So what's better than have a painting get together?
Said and done, spread out a piece of cloth and open up some drinks. Ready to go.
Just a quick heads up, what is going on currently. While i just finished the text, for the Imperial Knight Review (coming next monday), i want to show you some pictures of my latest additions.
I found this idea over at Stronghold Terrains Blog, Elmar did get his hand on some Fleischmann Magic Train. They fit perfect for 28mm / Bolt Action, as you can see. I got myself a nice little set of 6 at eBay for 20 bucks. They need a little paint, and then they are ready to go.
The weekend is more or less over and i can look back on some busy days.
A show without some hurting shoulders and my packed messenger bag wouldn't be a real show!
Let me say a big thank you and chapeau! to the great work the Tinsoldiers of Antwerp have done organizing the Crisis 2012. Amazing event!