Until Monday, July 9th 2018, Mantic is giving a 25% discount on all Dreadball teams. For us enough reason to launch a series of Dreadball focused articles, where we will introduce some of the teams and review both editions of the game. We`ll start with Darkhand's Disciples, a team of Marauders.
The Disciples are made up of ex-pirates and convicts. It is named after the notorious Orc general and raider Darkhand, who took so much pleasure in the game that he quickly set up an own one. Although Darkhand is no longer the owner of the team, the name persists.
Playwise Marauder teams consist of Guards and Jacks, while they don`t have Strikers at all (the type of player who is most likely to score points). While in the first edition of Dreadball they were able to keep up relatively well with the better teams, they find themselves more in the midfield in the second edition, as the Jacks got better, but with the amount of beafier teams, the Orcs got a little weaker.
As mentioned earlier, we combined Salute in London with a day trip to Nottingham. First stop on friday morning was Mantic Studio. As with the Warhammer World, this wasn't the first time visiting Mantic. It was quite impressive to see, how Mantic has grown over the years.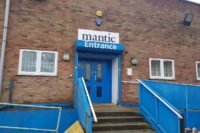 My first visit at Mantics was 2010, back then Ronnie and his crew was located at "Mantic Towers" with roughly the space that the new front area covers. 2013, for the first Warlord Games Day, I was the second time at Mantics. They already moved to the outskirds of Nottingham then, and moved from an apartment to an independend office building with enclosed warehouse. Now Mantic has moved again, into an even larger office building, roughly twice the old building, covering a front desk with visitors area, multiple studio offices, production facilities and a warehouse.
In the front is a gaming area, with couple of tables and a front desk. Several games from the Mantic range were displayed, including the board games. On the front desk was a loose assembly of the new and upcoming terrain crates, along with announcements to the new Hellboy Kickstarter.
Last thursday, on April 12th, Operation Sealion 2018 started. We went to Cologne Bonn Konrad Adenauer Airport, for our four day trip to the UK for Salute and a brief day trip to the Leadbelt.
There are a couple of ways to get to London. Two years ago and before that, we did the Salute as a day trip, grabbing a flight from Cologne to Stansted or Frankfurt to Heathrow. Flying from Germany takes roughly 1 to 1,5 hrs and sets you back between 70 - 150 Euro, depending on who you fly with. Just for Salute a rental car would only make sense, if the group is bigger than two people, as the London Underground is superb and reasonably priced. Only the shuttles ex-airport are sometimes a bit expensive. As we headed north to Nottingham, that question was already solved. Rentals are quite cheap in the UK, you can get cars for around 30 Euro per day. We paid just over 90 Euro for the prolonged weekend incl. unlimited miles. For rental cars I usually go with Budget, a daughter company of Avis. They offer good and uncomplicated service at reasonable quotes. The Honda Jazz was brand new, but not that much fun to drive and had a unpleasant driver seat.
Ryanair changed a lot in the last few months, along with strict limitations on the cabin luggage and checkin in. If you book all the excluded things to get back to a regular ticket, you end up with a price around the area of a Lufthansa ticket from FRA to LHR. Our flight was delayed by almost two hours due to mist, and on arrival we met quite a different weather compared to Spain two weeks ago.
Following the miniature games review, this is an unboxing and review of the scenery booster, that looks very promising and versatile.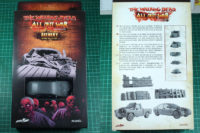 With the mid-season break on the TV series by AMC, it is time for some The Walking Dead, but this time as a miniatures boardgame by Mantic Games. And with all the Kickstarter pledges arriving, I want to show you, what the regular box looks like.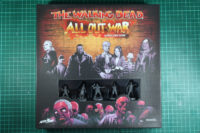 Third and final part of my Impressions, start with Warlord Games.
Mantic Games released for Mars Attacks these nice Trucks in 28mm scale. They are proper hard plastic, come in a sprue etc., no restic, no resin, straight forward good old plastic. I got myself a set of 3, for general purpose in Necromunda, Zombie Survival etc.