Micro Art Studio has widened their range of mostly bases and licensed Infinity terrain to more "franchises" and settings. Some of them belong to Wolsung or grim dark sci-fi settings, others are for historical games. I did show you some items from the generic / historical settings in reviews, like the foam hills or fuel depot, and I'd like to add the brick wall set to it.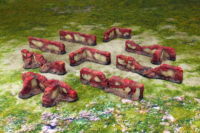 The polish manufacturer Micro Art Studio offers a broad range of terrain, made from resin, mdf and foam. They even carry licensed products for systems like Wolsung or Infinity. In this review I'd like to cover generic wargaming items in form of hills, made from foam.
The pictures above are from the MAS online shop and show the large hill and a set of four flat hills. They come unpainted and are 19,68 EUR (the large hill) and 34,44 EUR (flat hills). They are slightly primed in black.
Micro Art Studio, who offers a few sets of scatter terrain and sight-blockers, like the fuel depot, now added for Wolsung a few market sets. Of these I bought myself the spice and fish market, that are generic enough to be used for several settings, and I'd like to share them with you on here.
I found this one back at Spiel last year at Micro Art Studios booth. Saw it and thought, that is a must have for a gaming table, and at 16-18 Euro it is reasonably priced.
After this "marathon" of posts during December, i use the holidays to spend some time regenerating and relaxing.
Since mid-december i enjoy a couple of tv shows on Netflix while tinkering, i can only recommend Ray Donovan and The Americans. What else is on between christmas and new year? I am working on some of the articles i announced in the christmas post, taking care of terrain and the following.
The first is a Reaper Master Series 54mm miniature of an US Army serviceman. Solid cast, details are good, could be better but it is okay.
Third and final part of my Impressions, start with Warlord Games.
Out of the Conquest Games Norman Infantry (review is in the making) box i built the not mounted part of my Norman warband for SAGA.