The StuG is done and here are the proper picture of the third vehicle for my Unternehmen Greif / Panzerbrigade 150 force for Bolt Action.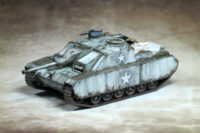 You can read about the work in progress in more detail over here, Ersatz Stug Ausf. G WIP. I thought a double sided Zeltbahn camouflage would be a nice detail for the vehicle. Went with winter / snow camouflage in "pure" white on the one side and a splitter tarn on the other side. There were reversible smocks for the infantry, proper details on the zeltbahn or vehicle netting are more difficult, so take this with some historical "liberty".
Almost there with the Ersatz StuG Ausf. G for the 150th Panzerbrigade / Unternehmen Greif. Finished the white wash camo, decals are done, weathering with mud and cracks is satisfying. Only part missing so far is the stowage. Have to take care of the spare wheel, the jerrycans and the Zeltbahn. Actually, I'm thinking about doing a splinter-pattern on the one side and leave the other one white, as snow camo.
When I started converting the Ersatz StuG I had a few black and white pictures of the Battle of the Bulge aftermath, and some more pictures of the Flames of War 15mm variant and a conversion tutorial by Warlord Games. In addition I found this one by Roy Chow on Network 54. I covered my own conversion in here (Unternehmen Greif) and here (Captured Ford M8a).
As I took care of the Rubicon Models StuG just a few days ago, I already mentioned, that I've been tinkering with that kit.
The next Bolt Action supplement, Battle of the Bulge, is just around the corner and we have a lot of winter troops around. I have a fable for captured vehicles and special vehicles, so I decided to build my winter germans around the Unternehmen Greif and one of the Kampfgruppe X-Z.
I already prepared a Panther M10, using the resin kit by Warlord Games and adding a few parts from the Rubicon plastic Panther kit.
After covering the Maus and some Sci-Fi reviews, it is time to come back to "regular" tanks, like the StuG III. I covered the Warlord / Italeri one last november, and now I want to share the counterpart by Rubicon Models.
I hope everyone enjoyed the last few days, had the chance to slow down a little and maybe even had a bit of time to spare on the our beloved hobby. In my case - you remember the test miniatures from the 24th? - I did a bit of progress on the SAGA warbands last thursday.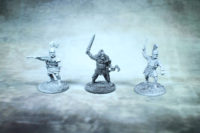 Next up, the StuG III Ausf. G, a recently released kit from the cooperation of Warlord Games and Italeri.