With the Warhammer Fest Europe returns the former Games Day in a new form to Germany. But not like in the past events to Cologne, but to Duesseldorf.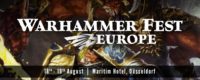 On the 18th and 19th August 2018, so the coming weekend, Warhammer Fest Europe will be held on the European mainland. The Warhammer Community page covered the Warhammer Fest UK in an extensive post over here: Warhammer Fest Live Blog.
Why am I looking forward to the Warhammer Fest? For that, we have to first take a look back to the years of 2008 'til 2010, the last times I was to Games Day Germany in the famous Guerzenich. Imagine entering the grim dark world of Warhammer in a gothic building, in the heart of the old town of Cologne.
The new venue for Warhammer Fest Europe is the Maritim Hotel in Duesseldorf, so there will be plenty of room and parking (which was kind of a problem at the Guerzenich). You could even get there by plane due to the proximity to the airport, if you wanted to. Just make sure you land at Duesseldorf Airport (DUS) and not "Duesseldorf" Weeze (NRN).