Further plastic kits were introduced for the new Oathmark - Battles of the Lost Age system by Osprey Games and Northstar Miniatures, among them new Elven.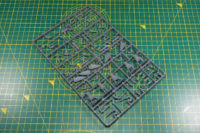 I was able to get my hands on a single sprue for this review, of which 6 are in the complete box with 30 Miniatures in 28mm scale. The price is set at 25 GBP. As you can see, each sprue contains options for spearmen, regular soldiers with hand weapon and shield or archers. And additional pieces for standard bearers and officers. In the box are 30 plastic 25mm square bases by Renedra as well.
A bit out of nowhere and unexpected, Osprey Games and Northstar Military Figures announced a new range of fantasy plastic miniatures, under the label Oathmark - Battles of the Lost Age, beginning with a set of dwarven infantry. This range will be released later this year, but as a special for Salute 2017, there would be a pre-release of single sprues.
The sprues were sold at 5 GBP each, so I assume a later box price of 20 GBP for a box of 20 (similar to the Frostgrave plastic pricing). I was able to get a sprue at Salute, and want to share my impression with you in this brief review.
After mustering the Romans for the SAGA project, it is time to call the German warriors of Vulfgangs warband to arms.
As mentioned in the article about planing a german warband, I started assembling the plastic and metal miniatures from the matching Warlord Games boxed set. As the metal torsos all wore fur, I added those fur cloaks to all of the miniatures. Fur is quite easy to do and there are several ways to do so, among others using a press mold by Micro Art Studios. I used a sculptor tool with a sharp, pin like tip.
The latest supplement for Frostgrave was once again financed by Nickstarter, Northstar's own crowdfunding solution, and brought along with the "Forgotten Pacts" expansion a brand new box of plastic miniatures. This set of multi-part barbarians will be covered in this review.
This year, Osprey Games had a surprising release of Frostgrave, a fantasy skirmish in a frozen city. The release of a wargaming rule set, is nothing new for Osprey, so why is this one so popular?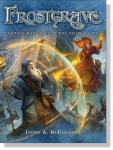 Frostgrave is more than just the plastic kit. Northstar offers quite a lot of Blisters with the initial release, so i beefed up the Soldiers with a bunch of magicians and wizards.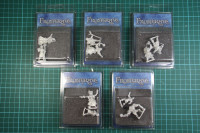 Northstar did a Nickstarter for Frostgrave, a fantasy skirmish ruleset, and even included a plastic kit of soldiers.
Frostgrave was recently released by Osprey and Northstar Miniatures and the Nickstarter for the expansion, Thaw of the Lich Lord, is online and already through the first stretch goals. As i am still struggling, if i can resist to pledge for the expansion before i even started building the basic rules and two warbands ... it's a a hard decision 😀
Northstar teamed up with Osprey and introduced Frostgrave. A Fantasy Skirmish, with Warbands gathered around Wizards and Mages of different schools, that explore the frozen City for treasures and artefacts.