You can pre-order the launch box of Warhammer 40,000 10th edition - Leviathan soon! This new box was previewed on Warhammer Fest in April 2023.
This is not a starter set, as we've seen in the past, but a Tyrannic Wars themed launch set, covering two armies, Space Marines and Tyranids, and the new 10th edition rulebook as a hardcover.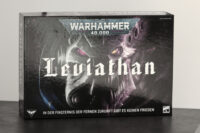 Leviathan is heavy. Satisfyingly heavy. And while Games Workshop already covered a "What's in this box?" on their Warhammer Community page, we're starting our coverage with an unboxing to set a foundation for the other articles.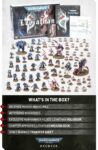 A Space Marine battle force of 25 miniatures
A Tyranid battle force of 47 miniatures
392 page Warhammer 40,000 Leviathan hardcover rulebook
66 card deck for missions
Space Marine Transfer Sheet
No rulers, no dice, no templates. As stated above, this is not a starter set, but a launch box aiming at players who are already into wargaming / tabletop. Yet, this feels a bit like Apple not delivering chargers with their phones, but I can see the point, as I already have a drawer full of dice, measuring sticks etc. from earlier starter sets, so I can live without it.
The first thing you see when you lift the lid from the box, is a half-face artwork of a tyranid and terminator as a protector of the sprues. Of which are 13 (!) in total in there, to cover all of the 72 (!) miniatures.
We get new scaled Terminators with Leviathan, to fit with the new Primaris Space Marines, and not just troops, but characters as well.
Space Marine Captain in Terminator Armour.
Space Marine Librarian in Terminator Armour.
Space Marine Terminator Squad.
But the Terminators aren't on their own. A lot of Primaris Space Marines are in there as well, a Sternguard Veteran Squad of five, a Primaris Apothecary Biologis and Lieutenant in Phobos Armour.
And a squad of 10 Space Marine Primaris Infernus (so these sprues are included twice).
For the proper fire support, a new Space Marine Ballistus Dreadnought.
The antagonists are not lead by a Hive Tyrant, but a winged Tyranid Prime, the Alpha of the Tyranid Warriors.
A set of very characterful Tyranids, a Neurotyrant with Neuroloids and a Carnifex Screamer Killer.
A huge Tyranid Psychophage.
Three Von Ryan's Leapers, a new unit very close to the Lictors.
The core are the Termagants and Ripper Swarms, you get two sets of these three sprues.
Another new unit are the Neurogaunts (10 plus a Nodebeast).
and five Barbgaunts, a smaller variants of the biovores.
And after we've taken out this huge pile of sprues, we come to another separator, protecting the print products and further content of the boxed set.
A 392-page hardcover rulebook, specially themed for this launch box. A deck of cards (66) covering missions, card board tokens and small leaflet as a foldable reference sheet. You can download the core rules for free at Games Workshop.
A huge decal sheet for various Space Marine chapters (Ultramarines, Dark Angels, Blood Angels, Space Wolves, Raven Guard and Imperial Fists), incl. veteranen badges and various numbers for units.
The instructions cover data cards as well, giving you not only info on the assembly but the units, their stats and weaponry. And there's some kind of launch campaign, called the Battle of Oghram, where you can send in the games you played and have the chance to win miniatures.
We will cover some of the units in detailled reviews, build them and take scale pictures, as you're used from our reviews. I have edited over 200 pictures, which will be the content of the upcoming coverage.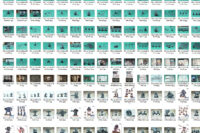 Beyond that, at a RRP of 150 GBP/200 EUR, you get a lot of material. A rule book is usually 55 EUR, a deck of cards around 15 EUR, the forces included in this boxed set are larger than Combat Patrols, who are 125 EUR each, so that gives you already a value of at least 320 EUR on these alone. Not a bad deal, not bad at all. Yet, of course, these are mostly push-fit miniatures, so not entirely comparable to the multi-part plastic kits.
I would have loved it, if the boxed set was more Tyrannic War themed, like having the veterans have special markings, some trophies etc., like the old Ultramarine Tyrannic War Veterans had, but I understand this would - even if still every second Space Marine army is blue, go against the flexibililty of using them as Vanilla Marines or any kind of other (generic) Space Marine chapter.
Warhammer 40.000 is a brand by Games Workshop.
The reviewed product item was provided by the manufacturer.
Enjoy this article?