With the last puzzle piece added to the collection, I have the core of what I "need" to recreate the Imperial Fists Supremacy Force from the very last moments of the 2nd Edition of Warhammer 40k.
This bundle was 65 GBP / 249 DM back in the day (that massiv uppricing in Germany, as the 65 GBP were only about 190 DM - anyhow the German price was EUR 127,31, or EUR 179,39 with inflation) when it was released in August 1998 and introduced in White Dwarf issue 224.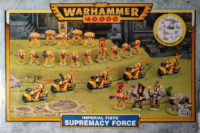 Finally! I was able to get my hands on one of the miniatures that I've been searching for, for such a long time - the Imperial Fist Captain (the cloak backpack is simply an addition by me).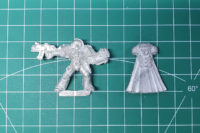 While you're looking for old miniatures on eBay and trading groups the risk of a recast is rather minimal, at least while looking for regular rank & file units in the one-digit value area. Some miniatures tend to be rare and very sought-after, creating prices for a single 28mm miniature of 30 EUR, 50 EUR or in some cases even beyond that on the second hand market. This demand and willingness to pay such prices, creates the interest of mischievous parties to cash in on this situation.
As I am doing the occassional coverage on Oldhammer projects, mostly 40k second edition so far, with a bit of Realm of Chaos, my personal risk is minimal. I bought a lot of the miniatures that are now valued either NIB or second hand from trusted sources. But when I added the Legion of the Damned to my Space Marine lot, of course I thought about Veteran Sergeant Centurius. The model was only available for a brief moment in / around 1996, for the opening of the 100th store in the UK. I am not sure about re-release in the US or Europe for similar events. But the miniature is rare and a real one, ideally NIB, easily makes you 50 to 70 EUR the right time. So I waited and watched the market space and eBay from time to time. I was a bit surprised that the prices dropped below 50 GBP.