The variant of the Warmaster Titan, the Iconoclast with different weaponry was released in Winter '21, and actually the first of the Adeptus Titanicus plastic kits, that I didn't cover as a review - until now!
The Warmaster keeps it very similar to the Warlord Titan, where only a single sprue is swapped to cover the alternative variant of the titan. And for that reason, this is more of an add-on along with some further add-ons, to the initial review of the Warmaster variant with the plasma destructors. As well as making use of my newly access to 3d printing.
The kit wasn't supplied by the manufacturer this time, but more of a casual chance at a trade, and I added a few bits that I found online (more in detail below). The RRP of the Warmaster is now 130 EUR since April '22 (compared to 125 EUR when it was released last year) and it covers four large sprues, an oval base, decals, a rather unflattering black and white assembly instruction, along with the cards and terminals made from card board, covering the rules and information for gameplay.
A mixed month with a lot of 3D Printing of course, I tested out some files for projects where I am going to print the miniatures myself. But it is important for me to not drown in the new possibilities and get some structure in there. I didn't reduce my stock to fill it with printed stuff again, just because I can. So, this needs a plan.
These projects cover a protagonist and antagonist each, basically two forces for each system, so I'm more flexible to host games and such. What are these - well, according to my Tabletop Parking Lot theory, I still have open lots outside of the 28mm department. With my fascination for Adeptus Titanicus, and already having quite the stock here, Epic makes for a reasonable expansion, and covers 6-8mm along with a company level wargame (in distinction to the platoon level that 28mm Warhammer 40k - at least in 2nd edition is).
I have the Anycubic Mono 4K for about 1,5 months now and went through the first litres of resin. Therefore, I'd like to share my first experience with owning a 3d printer.
First of all, the choice of the printer and technology. I don't have the need to print whole armies in 28mm or larger things, it was always about bits and small-scale items. And with that need, FDM was out of the picture, because it wouldn't provide the level of detail that I wanted for those. Resin print was the option I was left with, but the challenges of where to run it and the initial costs.
I estimated roughly for the costs, that as long as my invested in 3d printing services wouldn't be higher than 500 EURs, investing in a printer of my own wouldn't pay off. And 500 EUR is a high threshold just for bits, but with 3 or 4 mid-sized army projects I would rapidly get there. From that point of view, going for two Epic armies and a few bits, I might just be below that. But we all know, once you have access to such a device, you're going to use it. So, that decision was made, that it would be cheaper and more flexible for me to own a printer for what I have in mind (but more on that later) - at least that was my assumption at that point.
And then that was Q1 of 2022. March has been incredibly busy, and I don't mean that in a non-wargaming way.
Yesterday was april fools and I took the time to prepare a bit, with our CHAOSBUNKER PREMIUM LOUNGE. I'm glad you enjoyed it and as I got quite some message for the T-Shirts, let me check, if we can put those into reality and maybe use the turnover to do something good, like we did with the charity for cancer in April 2021. I'll keep you posted on this.
Wow, already a month done into 2021! We had the kick-off for the new year, and I could put a lot of energy into the weekends, continuing to sort out the stock. At some point you get to the things, that aren't bulk or quickly free up space, so after going for the overstock of Necromunda Bulkheads, I moved on to the organisers, to see what I'd keep and what would be sold.
A package arrived with a couple of 6mm Adeptus Titanicus terrain, that was 3d printed in grey PLA. After I had a few ruins printed for base decoration, I found further files on thingiverse and Florian was kind enough to put them on his Ender.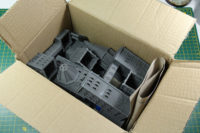 Let me sum up this week. I'm currently preparing the review on Warhammer Quest Blackstone Fortress. If you pre-order it, many stores will give you posters and a poker chip as a bonus. And I already gathered a couple of miniatures for the scale comparison shots. In case you have any wishes, what I should cover within the review, just let me know and I'll try to put it into the upcoming article.