Meanwhile probably everyone has felt the effects of this virulent plague, no matter in which area. Unfortunately this has also had a strong influence on the season of the Maulers. I had already planned a few matches that cannot take place now. As a father of two children, grandparents as neighbors and a pregnant woman who is not allowed to take medication, I had to find an alternative for the remaining three matches of the first Maulers season to avoid exposing my loved ones to unnecessary risk.
The fans want to watch games, Corona or not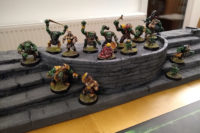 Coincidentally I have three painted teams standing here and so I tried something that I usually only do to learn rule mechanics - I played against myself. At first it seemed strange to me, but with the new edition on the horizon, time to finish the season is running out and playing a video game on the computer isn't really different.