Since a few weeks the Blood Bowl setting has been expanded with a revised Underworld roster and a new Old World Alliance roster. As with almost every team release, special play cards, dice and a pitch come along too. In this review we take a closer look at the latter.
The product costs, depending on the retailer you order it from, about 30,- € and comes in a sturdy packaging. The contents are the typical cardboard for dugouts, the field itself, a foam inlay that prevents the longer dugout from snapping, and the packaging that can be used as a practical slipcase.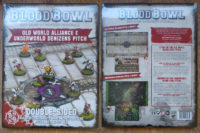 The pitch is printed on both sides, nearly 3mm thick and has received a layer of matt varnish in the last printing step. Just like the original field from the core box set, it gives a robust first impression.
The first pitch represents thematically a market place, which has been repurposed as a playground. This is not the ideal place for a Blood Bowl team to play a match, but a large amount of spectators is guaranteed and therefore each team gains +1 to its fame.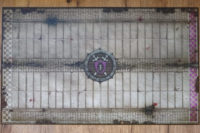 However, such a large crowd can also have a detrimental effect on the health of the players and so they each suffer +1 on their Injury Roll when they are pushed off the field. The small details on the field nicely show that this is a hastily cleared space and so you can find smaller details on the edge, such as the gully tops that replace the classic trapdoors and leftover bottles and plates with food. The reserve bench also matches the style.
The Underworld field, on the other hand, unsurprisingly represents a stadium beneath the surface. Veins of warpstone and the colorful mushroom flora make sure that all players who show up here lose some brain power during the game and gain the Bonehead trait. Players who already have this trait will gain Really Stupid instead. The team that will probably suffer most from that, are Vampires, who then have to take a test for Bloodlust and Bonehead as well.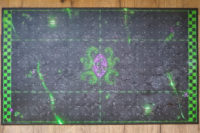 Details are not sparse here either. The trademark of the pitches, the flat goblin, can be found here as well as the puking night goblin.
What becomes clear on closer inspection is that both dugouts and pitches seem to have been created predominantly on the computer. The pitch of the core box was actually constructed and then digitalized, which is not the case here. On the Old World side this is noticeable, but does not disrupt the overall picture. On the Underworld side, on the other hand, the stalagmites in particular seem somewhat dull.
Conclusion
For about 30,- € the Old World Underworld field does not need to fear comparison with other pitches or the playing mats from third party manufacturers. Overall, the product leaves a good impression. How well it holds up once it is used a little more often will only become apparent over time.
A big plus is the matt finish, which largely prevents light reflections, making the pitch suitable for match reports. One flaw, however, is the moiré effect that can be seen on the Underworld side. My apprenticeship as an offset printer was a good two decades ago, but back then that was actually a reason not to sell the product on the market. On the Old World side, I discovered a so-called pull strip. This usually happens when a printed sheet is pulled from the finished stack during the production process to measure the ink density.
The fact that the rules for the two fields are printed on the packaging and are not additionally included as an additional card is a little bit annoying, but no biggi in the end. Overall, I like the fact that the field offers two different stadium variants on both sides. Since I've been playing Blood Bowl more like a role-playing game for a long time now, together with the field in the core box, this allows you to represent four different locations for your team.
So is the Old World Underworld pitch a good product? The answer here, as so often, is "it depends". If you have the core box, it's probably not necessary, but it's a nice addition to bring more flair and atmosphere to your games. So from my side I'm satisfied. As long as the product is new on the market, it is also quite decently priced. So if you feel tempted to buy it, you shouldn't wait until the next hard-to-understand price increase, or hope that the field can be auctioned on eBay at a sane price.
Greetings from the Chaosbunker
Dino
Blood Bowl is a brand by Games Workshop.
The reviewed product item was bought by the author.
+++ DEUTSCHE VERSION +++
Review: Blood Bowl Old World Underworld Pitch
Seit ein paar Wochen ist das Blood Bowl Setting um einen überarbeiteten Underworld Kader und einen neuen Old World Alliance Kader erweitert worden. Wie bei fast jedem Teamrelease gehen dazu Special Plays Karten, Würfel und ein Spielfeld einher. In diesem Review schauen wir uns mal Letzteres genauer an.
Das Produkt kostet, je nach dem bei welchem Händler Ihr es bestellt, ca. 30,- € und kommt in einer soliden Verpackung daher. Inhaltlich besteht es aus den typischen Pappen für Reservebänke, dem Feld selbst, einer Schaumstoffeinlage, die verhindert, dass die längeren Reservebänke umknicken können, und der Verpackung, die als praktischer Schuber genutzt werden kann.
OWUP 32 und OWUP 33
OWUP 31 und OWUP 29
Das Spielfeld ist beidseitig bedruckt, knapp 3mm dick und hat im letzten Druckgang eine Schicht aus Mattlack bekommen. So wie das Originalfeld aus der Grundbox macht es somit initial einen widerstandsfähigen Eindruck.
Das erste Spielfeld stellt thematisch einen Marktplatz dar, der als Spielfeld zweckentfremdet wurde. Das ist für ein Blood Bowl Team zwar nicht der ideale Platz um ein Spiel zu bestreiten, aber eine große Menge an Gaffern ist garantiert und somit erhält jedes Team +1 auf den Fame.
OWUP 7
So eine große Zuschauermenge kann sich jedoch auch schädlich auf die Gesundheit der Spieler auswirken und so erleiden diese jeweils +1 auf ihren Verletzungswurf, wenn sie vom Spielfeld geschoben werden. Die kleinen Details auf dem Feld zeigen schön, dass dies ein hastig freigemachter Platz ist und so finden sich am Rand kleinere Details wieder, wie die Gullideckel, die die klassischen Falltüren ersetzen und liegengelassene Flaschen und Teller mit Nahrung. Auch die Reservebank zeigt den passenden Stil dazu.
OWUP 3, OWUP 5 und OWUP 23
Das Underworld Feld stellt hingegen, wenig überraschend, ein Stadion unter der Oberfläche dar. Adern aus Warpstein und die bunte Pilz Flora sorgen dafür, dass alle Spieler die hier auflaufen ein wenig Hirnschmalz während der Partie einbüßen und das Merkmal Bonehead erhalten. Spieler die dieses Merkmal bereits besitzen erhalten hingegen Really Stupid. Das Team, dass damit wohl am wenigsten zurechtkommen wird, sind Vampire, die dann für Bloodlust und Bonehead gleichermaßen einen Test ablegen müssen.
OWUP 10
Auch hier wurde mit Details nicht gespart. Das Markenzeichen der Spielfelder, der platte Goblin, findet sich hier ebenso wieder, wie der würgende Nachtgoblin.
OWUP 22 und OWUP 16
OWUP 20 und OWUP 18
Was schon bei etwas genauerem Hinsehen deutlich wird ist, dass sowohl Reservebänke und Felder scheinbar überwiegend am Computer entstanden sind. Das Spielfeld der Grundbox ist tatsächlich konstruiert und im Anschluss digitalisiert worden, was hier nicht der Fall ist. Auf der Old World Seite fällt dies zwar auf, stört aber das Gesamtbild nicht. Auf der Underworldseite hingegen wirken insbesondere die Stalagmiten etwas lieblos.
Fazit
Für rund 30,- € braucht das Old World Underworld Feld den Vergleich mit anderen Spielfeldern oder den Spielmatten von Drittherstellern nicht zu scheuen. Insgesamt macht das Produkt einen soliden Eindruck. Wie gut es sich hält, wenn es erst mal etwas öfter bespielt wird, wird erst im Laufe der Zeit ersichtlich werden.
Ein großes Plus ist die Seidenmattlackierung, die Lichtreflexionen größtenteils verhindert und das Feld so auch für Spielberichte geeignet macht. Ein Patzer hingegen ist der Moiré-Effekt, der auf der Underworld Seite zu sehen ist. Meine Ausbildung als Offsetdrucker ist zwar schon gute zwei Dekaden her, aber damals war das eigentlich ein Grund das Produkt so nicht anzubieten. Auf der Old World Seite habe ich einen sogenannten Zugstreifen entdeckt. Das geschieht normalerweise, wenn während des Produktionsvorganges ein bedruckter Bogen aus dem fertigen Stapel gezogen wird, um die Farbdichte zu messen.
Auch, dass die Regeln für die beiden Felder auf der Verpackung abgedruckt sind, und dem Feld nicht zusätzlich in Papierform beiliegen, ist ein Wehrmutstropfen, wenn auch nur ein kleiner. Insgesamt mag ich, dass das Feld auf beiden Seiten zwei unterschiedliche Stadionvarianten bietet. Da ich Blood Bowl schon lange eher im Stil eines Rollenspiels spiele, lassen sich zusammen mit dem Feld in der Grundbox so gleich vier unterschiedliche Reiseziele für Euer Team abbilden.
Ist das Old World Underworld Spielfeld also ein gutes Produkt? Die Antwortet lautet hier wie so oft "kommt drauf an". Hat man die Grundbox, ist es wahrscheinlich nicht nötig, aber es ist eine schöne Erweiterung um mehr Flair und Atmosphäre in Eure Spiele zu bringen. Von meiner Seite aus bin ich also zufrieden. Solange das Produkt neu auf dem Markt ist, ist es zudem recht anständig bepreist. Wer sich also zum Kauf versucht fühlt, sollte nicht bis zur nächsten schwer nachvollziehbaren Preissteigerung warten, oder hoffen, dass das Feld zu einem normalen Preis auf eBay ersteigert werden kann.
Grüße aus dem Chaosbunker
Dino
Enjoy this article?