It is August and the second block of the Summer Project is underway. As announced at the beginning I will dedicate myself to the halflings.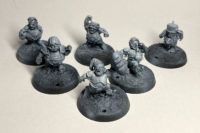 The team cards were not included in the Blitz Bowl core box, but in one of four team expansions that were brought out especially for Barnes & Noble. Aside of the Halflings, I also ordered the Undead and ignored the Chaos and Skaven team, as their card were actually already in the core game box.
In terms of stat values, the Halflings team is one of the best, if not THE best, team in Blitz Bowl and I look forward to thoroughly try out this team when they are completely painted.
I' ve already started to apply the basic colours and paint a little bit every evening so that I won't need as long as last time.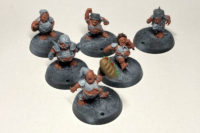 Unfortunately I still have the problem of being totally undecided about the team colours. But maybe you can help me out with this, dear readers. I would like to have the team in 3 colors, so that it can be combined with dwarves and humans to an Old World Alliance team for Blood Bowl. Three colors also, so I can get some variation for the other two teams and not have them all look alike for Blitz Bowl. One of the colors should be white, otherwise I'm totally open for suggestions, so keep it coming.
Thanks in advance and until next time!
Swarley
Enjoy this article?