Of course, no event coverage is really completed without the haul, the loot, the goodies that you've brought home. So let's see what I got myself this time.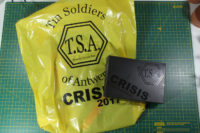 Saturday morning, short of 10 a.m., once again we are in front of the halls of the Waagnatie Expo. Decorated with the eight large banners, that can be seen from afar. It is time for Crisis 2017.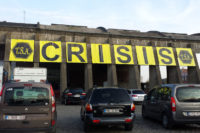 It is this time of the year, early November and the TinSoldiers of Antwerp host their annual show, the Crisis. For me, preparation started in summer just when I got back from New Zealand, getting the team ready and booking hotel rooms.
Only a month until Crisis 2017! On November 4th the hangars Antwerps harbour area will open their doors for Europe's biggest wargaming event on the mainland.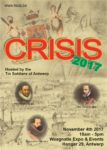 And let's get ready for the final part about the Crisis in Antwerp. Stronghold Terrain was there as well, and showed their lovely, detailled terrain pieces and miniatures, for Saga, for world war II and even the dark future.
Let's continue with some traders and producers of fine miniatures. Freebooters Miniatures is a familiar and regular guest at the Show. In case you missed the novelties at Spiel, you had the chance to see and get them at Crisis.
Oh Boy! What a glorious weekend at the 20th (!) Crisis last saturday! Once again the Tinsoldiers of Antwerp invited into Hangar 29 for the '15 Crisis and i wasn't the only one to come.
I am back! From a whole weekend in Antwerp, spend the time beside the show discovering the city (more on that later). It was the 20th Crisis, hosted by the Tinsoldiers of Antwerp, and i'll begin with my yield from the show.
This weekend it is time for Crisis in Antwerp, and as it is the biggest wargaming event in continental europe i am really excited and looking forward for this long weekend in Belgium.
So what am i excited about? First of all, the novelties on this show are broad and diverse, so from tiny 6mm up to 40mm, from fictional to historical there are so many things to see. What did catch my eye before the show?