Games Days (the predecessors of the Warhammer Fest) were a format of an event, organized by Games Workshop for the first time in 1975, originally in London, and covered the broader range of products that the company imported and distributed, like role playing games or miniature boardgames. Later the event was moved to Birmingham, to the NEC and the focus changed according to the company's range towards tabletop wargames.
With Games Workshop growing internationally, the Games Days were not only held annualy in the UK, but in many European countries like Germany, France and Italy, and on other continents, like Australia (Sydney) and North America (Atlanta, Baltimore and Chicago) as well. The first German Games Day was hosted in 1999, with many of the international events joining in the early 2000's.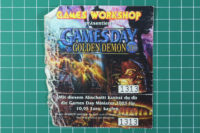 I went to my first Games Day exactly 17 years ago on August 24th 2003. But why do I write about a Games Day that was so long ago? The same day I found the tickets from my first trip to Warhammer World, I came across my ticket from the 2003 Games Day in Cologne.
Back in the day, the German one was held in Cologne, at the Gürzenich. Quite an impressive location for such an event, as the Gürzenich is a representational building in the heart of the city, which was first opened in 1447 and has a classic late Gothic façade. And is it used as a festival theatre, it easily covers enough space for a wargaming events.