I backed the first Barons War Kickstarter back in 2019, and last year I went for the big pledge in the Outremer campaign, their 4th Barons War crowdfunding.
There were two motivations for me to do that, the first was this would grant me a second force for my Crusade themed project and I'd finale have the chance to have a personal sculpt done, and in this case even by Paul Hicks himself.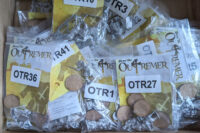 And the miniatures arrived in two batches. The first covering my unique sculpt and some bonus content (shown further below) and the second one was my main pledge, covering the Antagonist set of miniatures and a few additional codes, that I went for.