CONflict Rheinland returns for the weekend of May 12th to 14th, once again as an internal affair. And I was there for the third time, after last year's show and the last public one in 2019. And with it being held in Langenfeld, just north of Leverkusen, it is a one-hour drive for me and much quicker than that for the people joining in from the Ruhrarea or Cologne.
And obviously, we can't cover an event, without covering the parking lot first. Lots of space right in front of the venue.
The venue is the clubhouse of the local rifle club and covers a kitchen and bar, so the hosts could provide us with full catering (breakfast, lunch and dinner, along with a broad variety of drinks) - all at cost. So, after I arrived around 10 am, I could grab a few bread rolls for breakfast, we later had bowls of chili (with and without meat) and meat skewers with potatoes for dinner on Saturday.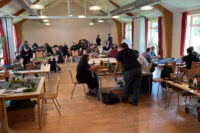 Various solo gamers and hobby clubs hosted participation rounds, with many familiar faces. Among others Axel from Shootout in Dingstown, Red Lion Con, Kiepencon, Tabletop Rheinmain, Team Würfelkrieg and Games 'n Dice were there, and offered rule systems like Warlords of Erehwon, Song of Fire and Ice, Dracula's America, Spectre Operations or Baron Wars - to just give a brief sample of some of the games.
The first table that really caught my eye, was this Battlefleet Gothic Remastered table hosted by Stefan, and mostly because of the Gloriana Class scaled Planet Killer. The ships were 3d printed from ItalianMoose and Soul Forge, with the Planet Killer being represented by the Destroyer of Planetary Bodies by Soul Forge. That thing is the size of a forearm.
Used the chance to have my first Battlefleet Gothic (remastered) game, and quite enjoyed. Interesting 2 on 2 setup, with a narrative scenario. The Planet Killer would try to destroy an M-class planet and the Imperial Fleet would try to take out Abaddon's big toy before it has the chance to. Lots of blast markers, a lot of torpedoes, and from the feedback of the others, a more streamlined gaming experience thanks to the remastered rule set. Had a blast, we were able to take out the Planet Killer in turn 5, thanks to some lucky rolls and torpedo and nova cannon spam. I feel vindicated in my decision for this game.
Thanks again to Stefan for hosting this entertaining introduction.
The second game of the day was Barons War, hosted by Tabletop Rheinmain. As I pledged the Outremer campaign primarily for the miniatures, I wanted to give the rules a chance and as I am familiar with the narrative games that Zigor hosts (usually deeply embedded into the hessian history or folklore), I was really looking forward, which story we would dive into this time.
We didn't go to central Germany, but actually fought the Barons War, a small skirmish over a town's crossing. Retinue of local nobility on each side, and had a clash. While table and miniatures were well made, I can't say that about the rules. The Barons War ruleset looks strategic at first, due to the tokens and special rules for certain units, but lacks proper mechanics. It feels rather random, it doesn't really matter who inflicts damage, as a hit - and most annoyingly a crit - can kill everybody. This means,  when the peasants attack your hero, and they spam attacks as they are cheap and there's a 10 among that, the only chance for you to survive that, is rolling a 10 yourself. Otherwise, that's it. He doesn't have multiple attacks or a stronger blow to fight back, he just creates the need of forcing your enemy to roll a save more likely. And I wasn't alone with that conclusion, the other participants of the round felt "not that entertained" about these rules either. Next time, probably something like Rampant something.
Yet, if you participate in a Barons War promo game and your host got in touch with Footsore beforehand, you will receive a special miniature for playing - a bannerman. And that certainly raised the mood. Lovely sculpt by Paul Hicks and I'll put him to use with my Spanish crusaders.
After that, we went over to the Alien vs Predator table by Team Würfelkrieg, who played against us in the Barons War match. Tobias and Evelyn put a lot of work into this modular, upgrading the board game and using parts from the different editions / releases. This is a very interesting type of game, as you don't play 1 vs 1, but 1 vs 1 vs 1, and while keeping an eye on your own mission objective, you have to ensure to not only focus on one of the others. And the three factions of Predator, Marines and Aliens certainly play very differently, so this is a challenge as well.
And after suffering some high rolls in the early game (in AVP you need to roll below certain values), I got a bit lucky towards the end and managed to fulfil my mission objective last minute, when I was down to the very last 3-4 aliens. On all the ones I lost, I rolled so badly, that none of them bleed their acid blood.
After the game, Evelyn showed me the miniatures for the Air Raid 36/46 Kickstarter, that they just took the pictures for. A world war II aircraft game, made in Germany, with a lot of cooperation within the manufacturers, so if you liked Wings of War or Blood Red Skies, but felt they were lacking something, give this campaign a proper look. Maybe this is just what you were waiting for.
But we weren't just guests at the CONflict, but participants as well. Florian of our chaosbunker daddies / "painting morning circle" brought his impressive, 3d printed Frostgrave table with him, and invited some brave adventurers into the halls of madness. The lower part of the table was scratchbuild from resin bits, XP
[21:43, 14.5.2023] Florian Buhr: Tisch: Untere Hälfte Scratchbuild mit Resinbits, XPS und Holz
[21:43, 14.5.2023] Florian Buhr: Obere Hälfte STLs von Printable Scenery mit ein bisschen Meshmixer hier und da
[21:45, 14.5.2023] Florian Buhr: Szenario: Eine Mischung aus The Bone Wheel aus Thaw of the Lich Lord und Enemy without number aus Forgotten Pacts. Skelette bewachen die Schätze, aber für jedes das du killst spawnen zwei neue.
Gregor and Benjamin from Games 'n Dice, and part of our "painting morning circle" as well, hosted a 28mm American Civil War table, using the Picket's Charge ruleset by the Too Fat Lardies.
And to round this event coverage up, some more close ups of the other tables. Really lovely setups and great scenes to see.
The next event in our event schedule happening in Germany will be the Rhein Main Multiversum in September.
Once again, a big thank you to Torsten for inviting us and the whole crew for the great hospitality. We're looking forward for 2024!
Link: CONflict Rheinland
Enjoy this article?