The last Bolt Action campaign review that I published was Battle of France back in April, I'm currently still working on the Fortress Budapest book. It is massive and a part of the war, that I am not that familiar with, so it takes a bit more time of preparation. In the meantime the next supplement, Campaign D-Day: Overlord was released, along with a matching summer campaign.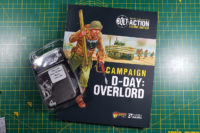 And let me tell you, this book is massive. It is the thickest supplement so far and covers an incredible amount of content. The Western Desert was the biggest so far with 168 pages and just look at the difference.
There it is again - "the stuff box". These are organized by tabletop wargaming boards, you join in and put your name on a list and the package is shipped from the first to second, from the second to the third, and so on, until it arrives back at the first person who posted it.
Depending on the community, there are different rules for these boxes. You may take some items out, but have to put something in in return of at least the same value. I participated in these in the past and currently two, one by TabletopWelt and one by Sweetwater, the later I'm showing you today.
So this bright yellow mail box arrived wednesday, and you can see, it is filled almost up to the lid with miniatures, sprues and stuff.
I am quite happy to announce, that my hunt on the Oldhammer stuff, that I covered a couple of weeks before, was rather successful. Via the introduced and mentioned channels I managed to acquire some interesting kits and spare parts to build the Imperial Guard retro project around.
With the Basilisk it was a bit tricky, as for some reason, the new kit is currently Mail Order only and thus making the used kits "more" rare. As with the Basilisk, one of the main problems are missing parts, like the fence on the rear being incomplete. I didn't care for the crew, as that was added later in the third or fourth edition and not part of the initial release in the 2nd edition. A crew that was important for me, was the one of the Griffon tank. I managed to buy the pair of soldiers, incl. the commlink back pack, and got quite some treasures with them. Yes, that are the old cardboard and necromunda bulkhead terrain pieces. And the stack on the right is vehicle accessories sprues, mostly complete. Believe me, I'm in heaven. Especially with buying older vehicle kits, often the hatches or some parts like that are missing or incomplete.
The journey through Oldhammer continues. I gave the introduction and the first part of choosing and preparing an retro-project. Next step, get yourself some old miniatures.
But before you start buying, make sure you know what you're looking for. I suggested SoLegends for their vast amount of catalogue pages and beyond that, there are dedicated pages like Collecting Citadel Miniatures, if you're looking primarely for rare or limited miniatures.
One important to thing, when you're buying second hand / used miniatures, especially multi-part, that you're aware that they are multipart. To stay with the example of my Imperial Guard project, it is not that useful to buy a cheap griffon without the crew or a Yarrick without his banner and then spending more money and time on looking for that missing bit. Therefore it makes more sense to buy the complete model and save yourself the hassle. But in somecases it is difficult to be aware, that there are missing pieces, for example with the commlink operators, often the commlink backpack is missing, or the turret armour of the hellhound.
To continue the Oldhammer series, introducing on how to tackle such a project. If we compare it to restoring an oldtimer / classic car, you would decide for a brand and car, narrowing it down which build and mark you are looking for. I suggest a similar approach to an Oldhammer project.
Especially for the beginning, it might make sense to narrow it down to a smaller core and later on extend the project. Of course Oldhammer isn't limited to 40k, you could do this with Warhammer Fantasy, Rogue Trader, Blood Bowl or any other game system that Games Workshop covered before 1992-98. One of the army bundles would be a solid starting ground, as they cover a determined and tractable number of miniatures, thus being not that costly (of course, varying what army you go for, Chaos Dwarves are a total different book than Space Marines).
I for example went with the Imperial Guard range from the 2nd edition, and focus on a squad of each of the regiments / units available during that period, using the old Codex supplement as a guide.
After the short introduction to Oldhammer earlier this month, we want to stick with the 2nd Edition of Warhammer 40,000 and highlight one particular army - the Imperial Guard.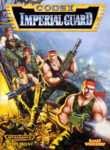 If you think of Warhammer, especially 40k, you think of Space Marines. But the Imperium and its forces is not only made of Adeptus Astartes, but simple men defending their homeworlds and holy Terra as well. The Imperial Guard existed in Rogue Trader as well and is not something new, that came along with the second edition. But the diversity was surely brought to that army with the new miniature range introduced in 1994.
Nostalgy is something that many folks come across. Weither it is collecting old video game consoles from your youth, or the cars you grew up with (like your dad's/uncle's car or the super cars from the magazines). And this nostalgy is possible with wargaming as well. Of course, not only with the Warhammers and their sister games, but in this case Oldhammer is an actual thing.
And similar to oldtimers or other vintage (collecting) hobbies, the span is quite broad. Some goals are easier to reach than others. For example my brother-in-law gathering classic Nintendo entertainment systems along with the original games (and not going for emulators) is a bit easier, compared to actually buying the Ferrari F-40 or Lamborghini Countach that hanged as a poster on the wall of your children's room. But as I don't have the time or space to take on a project like my late uncle's E30 325i or the 100k EUR for an Schwimmwagen, I stick with the wargames from my youth. I did already talk about oldhammer in 2016, as part of the Sweetwater / Tactica contest.
This year is my 20th (!) "anniversary" in wargaming. Still can't believe it has been that long, since my first miniatures and wargaming rules.

Inspired by the exhibiton at Tactica 2017 and associated contest on Sweetwater, I would like to share my beginnings in wargaming. It must have been the summer of 96, in an art study group at school. Somebody had Heroquest miniatures with them, and my oldest friend Holger remembered, seeing those at a toy store near our home town. We had 30-60 minute car travels (well, we annoyed our parents until the drove us) to nearby cities, to get our hands on our first White Dwarfs. In September I bought my first miniature, a Space Marine Veteran Sergeant or Captain, that I painted directly in store - in the colour of the Blood Angels, as those are part of the current starter box. Later that year I subscribed to White Dwarf, as it was an incredible hassle to get one in the countryside.
Last few days until christmas, and i want to show some really special blogs from my pinterest board. I hope you guys liked the advent calender so far, and a ready to spend some time with your family and friends, have a rest, and maybe enjoy a game and a cold pint.
First pick is from France, Lead Plague. A pretty cool old school project log, about Rogue Trader and Oldhammer. Some original vintage miniatures, along with conversions of newer ones to fit in with the old vibe. Enjoy the nostalgy.