And the third and final part of our Warhammer Fest 2023 recap and comments, focussing on the Monday reveals. With them being only labelled as Kill Team and the rather "light" content of the Fantasy skirmishes from Saturday, I didn't expect that much. But was happily surprised.
There will be a narrative campaign for Kill Team called Ashes of Faith. It is not part of the current season Gallowdark, but an extension of its own, I assume a bit like Rogue Trader back in 2018. It covers no terrain, and a repack of the chaos cultists sets from the 40k Chaos range (Dark Commune, Cultists and Accursed Cultists), as well as a few Sisters of Silence and Scions to support the new Inquisitorial Agents, who are a new plastic kit, that will give you the option to build 7 different miniatures (a few variants shown here).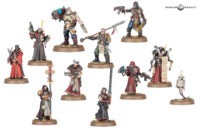 These are a nod to the Inquisitor 54mm miniature roleplaying game by Games Workshop in the 2000s, among them most noticeably Sergeant Stone, who had his 54mm miniature and even a rumour engine teaser a while back on Warhammer Community. The new model really catches the artwork by John Blanche and Adrian Smith.