A new project always has something magical about it, and in the case of Frostgrave that's literally the way it is. As Dennis summarized nicely in his review, Frostgrave is a pretty simple setting - two rival wizards seek treasures in the frozen city Felstadt. That's it. After the flood of complex and lengthy fantasy games on the market, this is refreshingly simple. Due to the vast selection of fantasy models on the market, the creative side stands in an extreme contrast to this.
I started with a similarly uncomplicated approach this time. I just wanted something fantasy, but I wanted to draw a bit more from the well-known generics and not dive into the world of ultra-high fantasy from a well-known manufacturer. For this I play a different skirmish game. Another incentive was my experience with Dead Man's Hand, in which I painted models in the classic 28mm scale and where it was fun to paint a few generic minis, which can be used in several games.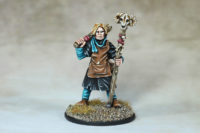 The latest supplement for Frostgrave was once again financed by Nickstarter, Northstar's own crowdfunding solution, and brought along with the "Forgotten Pacts" expansion a brand new box of plastic miniatures. This set of multi-part barbarians will be covered in this review.
This year, Osprey Games had a surprising release of Frostgrave, a fantasy skirmish in a frozen city. The release of a wargaming rule set, is nothing new for Osprey, so why is this one so popular?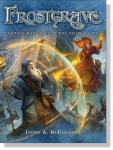 I did some painting this week! Along with putting my Airbrush to action, i gave the Zombie bust a first coat of paint. After receiving some feedback about which scheme to choose, i went with greenish skin (as base tone, but it will become more "fleshy"), grey shirt and blue trousers.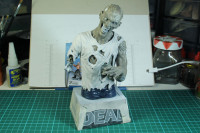 Frostgrave is more than just the plastic kit. Northstar offers quite a lot of Blisters with the initial release, so i beefed up the Soldiers with a bunch of magicians and wizards.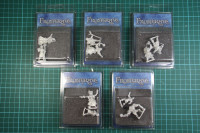 Northstar did a Nickstarter for Frostgrave, a fantasy skirmish ruleset, and even included a plastic kit of soldiers.
Frostgrave was recently released by Osprey and Northstar Miniatures and the Nickstarter for the expansion, Thaw of the Lich Lord, is online and already through the first stretch goals. As i am still struggling, if i can resist to pledge for the expansion before i even started building the basic rules and two warbands ... it's a a hard decision 😀
Northstar teamed up with Osprey and introduced Frostgrave. A Fantasy Skirmish, with Warbands gathered around Wizards and Mages of different schools, that explore the frozen City for treasures and artefacts.