Quite the weeks behind us and surely some interesting times ahead. I had to take a time out until last monday, as I was bed-bound for over a week. Work in the meantime was quite different, as many took the option for home office and almost all of the events were cancelled due to health concerns. So a lot less interaction with other people.
And those concerns spread out into our hobby as well. A lot of smaller and midsized events were cancelled, and even large one as the Adepticon. Games Workshop re-scheduled the huge preview they had planned and will provide it in an online variant. So far, Salute stays stubborn but I guess that the government or venue will take care of that (and they are waiting for that to happen due to liability issues). The way they went through with Hammerhead this weekend seemed unwise to me as well.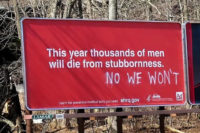 Any how, I'm sad that these action have to be taken, but I am rather safe than sorry. So I'll take a raincheck and will visit events after this whole thing has sorted out. In the meantime, I am pretty sure most of you have a pile-of-shame and some kind of hobby-related backlog, that is the perfect activity for the upcoming weeks of quarantine, isolation or other precautionary measurements. Either shop at your local gaming store or preferred online shop of your choice, stock up on primer and paints and get it going.
In addition to the Frigates and Brigs from earlier this week, I want to cover the third plastic sprue as well - the 3rd rates. These are currently available as a squadron of 3 in a boxed set.
The name third rate comes from the British rating of ships of the line. A third rate ship of the line would usually have 64 to 80 guns mounted, thus making it less gunned than a second rate ship (90 to 98 guns) and first rates with 100 guns and more (so far only available as resin models by Warlord Games.), both usually have an additional gun deck, sometimes even two in case of the first rates.
After expanding Bolt Action into the naval combat with Cruel Seas, Black Powder benefits from a similar treatment and is expanded into the Age of Sails with the new Black Seas ruleset. Warlord Games introduced three new plastic sprues with ships in 1/700th scale of which we're going to cover the Frigates and Brigs today.
These sprues are part of the Master & Commander starter set as well, but are available as a Flotilla for 20 GBP and cover two Frigates and four Brigs.
It is the Halloween weekend and I thought that I had seen a horror-scenario for Black Seas, but I am unable to find it. Anyhow, there is Dreadfleet, of which I used the battle mat from the boxed set already with Cruel Seas.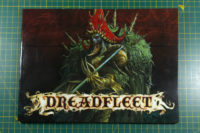 Dreadfleet was a bit of a surprise back in 2011, when it was released as a stand-alone boxed-set. The rumours lead many to believe, that we would see a re-release of 1993's Man-o-War.
A package arrived with a couple of 6mm Adeptus Titanicus terrain, that was 3d printed in grey PLA. After I had a few ruins printed for base decoration, I found further files on thingiverse and Florian was kind enough to put them on his Ender.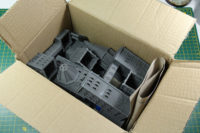 I just did the Cruel Seas unboxing and review and Warlord Games introduced the next naval wargame, Black Seas. Similar to how Cruel Seas ties in with Bolt Action, Black Seas will tie in with Black Powder, focussing on the naval battles between 1770 to 1830.