Busy week - published my review on the Nemesis Warbringer kit yesterday and completed the pictures for the upcoming review on the Manufactorum Imperialis terrain kit for Adeptus Titanicus.
My latest orders arrived as well. Among them the new updated boxed set for Adeptus Titanicus. Quite the deal. I now have enough titans to field two medium to large maniples, one loyal and one traitor. I am still tinkering on the colour scheme and names of my custom legions. Incl. the latest arrivals I have them split like this:
Loyal Legio:
1 Warlord, 1 Nemesis Warbringer, 2 Reaver, 3 Warhound, 3 Cerastus Knights, 9 Questoris Knights
Traitor Legio:
1 Warlord, 3 Reaver, 3 Warhound, 2 Acastus Knights, 3 Cerastus Knights, 3 Questoris Knights
For the traitor titans and knights I am currently browsing through my bit box to modify some of the weapons, especially for the Cerastus Lancers I have some wilder ideas.
Naval wargaming will see some coverage as well. The Cruel Sea supplement close quarters arrived, and for Black Seas my spanish fleet has its named First Rate, some cannon boats and two Merchant vessels. I guess I have to take a look at Hagen Miniatures and their recent releases of smaller ships. My fleets of the Kriegsmarine and Royal Navy are complete, but I have to be honest, the Kriegsfischkutter really appeals to me. Similar as the new model of the german U-Boat, but i'll try to cover that with my 1:350 plastic kit and make it water-lined.
Lot of arrivals, what about departures? I have spoken about the changes to my collection a couple of times. To make it maybe clearer or better to understand - the goal is not to find the one system. If we go for a car metapher, I never intended to get along with a single or double garage. More like something with quite a few pitches. It's just that currently most of these are rather similar type of vehicles, like having 8 station wagons. Yes, they have different colours, but I am more looking to be able to choose from a cabrio, a van, an oldtimer, a muscle car and a sedan.
For that reason I am reduzing the size for example of my Bolt Action projects, quite the pile of sprues, a lot of this is infantry, but there are plenty of left-over bits from vehicles in there as well. Would these spare parts from Warlord and Rubicon kits of interest for anyone? To have something to convert wracks or field conversions.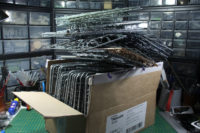 This weekend the 15th Tactica is happening, I've been there for the first time last year in 2019 and it was quite the weekend in Hamburg. I wish the guys a great show, looking forward to the pictures!
Beyond that, the week was quite busy off the wargaming topics. After the stormy beginnings of the week, saturday was fresh, but sunny with blue sky. And my DKMS typing kit arrived. But more on that later.
I had a few after-work events this week, so not much to say on streaming tipps this week. Netflix released the second season of Narcos Mexico. Unfortunately a lot of that show is kept in Spanish with subtitles, making it not the best show to watch while working on models. A similar problem that I had with Star Trek Discovery, with the lot of Klingon scenes, not dubbed but provided with subtitles. Anyhow, that's it for today.
Have a great sunday!
Enjoy this article?