For the first full day in Nottingham we had the two newcomers on the miniature market on our schedule, Warlord Games and Mantic Games.
Warlord was already in the Lenton Business Centre where they sit until today. But back in the day, as a young and small company, they only rented single offices that were spread across the centre and not the whole wing and own brick & mortar store like today.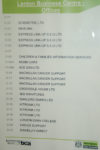 The range was already quite broad in terms of historical coverage, but far from the variety of plastic kits as today. The Early Imperial Romans and some Black Powder kits were already available and the first German soldiers for Bolt Action.