As mentioned earlier, we combined Salute in London with a day trip to Nottingham. First stop on friday morning was Mantic Studio. As with the Warhammer World, this wasn't the first time visiting Mantic. It was quite impressive to see, how Mantic has grown over the years.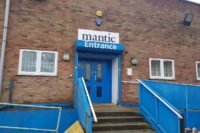 My first visit at Mantics was 2010, back then Ronnie and his crew was located at "Mantic Towers" with roughly the space that the new front area covers. 2013, for the first Warlord Games Day, I was the second time at Mantics. They already moved to the outskirds of Nottingham then, and moved from an apartment to an independend office building with enclosed warehouse. Now Mantic has moved again, into an even larger office building, roughly twice the old building, covering a front desk with visitors area, multiple studio offices, production facilities and a warehouse.
In the front is a gaming area, with couple of tables and a front desk. Several games from the Mantic range were displayed, including the board games. On the front desk was a loose assembly of the new and upcoming terrain crates, along with announcements to the new Hellboy Kickstarter.