After visiting Mantic Games, we went to Warlord Games, to take a look at their new HQ store. Warlord has been located at Lenton Business Centre since the very beginning. Back when they only had a few offices, spread all over the complex, nowadays the have entire wings of the centre to their name. They held their first Warlord Games Day in 2013 there as well.
As the studio and production facilities are only open to the public during their open days or special occasions, the store is a new addition that is open daily from 11 am to 5 pm, with the exception of gaming thurday til 8:30 pm and sunday til 4 pm.
Connor is the one in charge of the store and master of the several gaming tables within it. You can have a match of any of Warlord Games system at the store with a pal or get a introduction game. They even have the Pegasus Bridge set up at the store.
With Blood Red Skies recently arriving in store, we had the chance to give the aviation combat game a try. I was sceptical at first, as I've played Wings of War before and the Wings of Glory rebrand later, and I wanted to see the difference. Especially with X-Wing being quite popular, it is interesting to see how Blood Red Skies will differ itself from the competition. As Wings of War is fairly beer & pretzel, I was happy to see that Blood Red Skies benefits from formation and the support (a.k.a. wing man attitute) of your aircrafts to eachother.
We had a quick match, splitting up the aircrafts in squadrons between us and got into it. The basic rules give you the opportunity to have a match as quick as 10-15 minutes, with further advanced rules for aces and such, to give the game more depth. I'll have to get myself a copy of Blood Red Skies and do an unboxing on here.
Of course no shop would be complete without painted miniatures. I really like the winter troops of the US Americans and Germans for Bolt Action, along with the Japanese. Most of the novelties weren't on display in either the shop nor the studio, as they had them packed and brought to Salute.
Warehouse got bigger as well. Just look at the number of wargaming products, different epoches in plastic and metal. It would be crazy, if they raffled away a golden ticket and you would win everything you could carry. Games Workshop did something like that back in the late 90s. Keep in mind, that they have this warehouse right beside the store, so if you're looking for something and they don't have it on shelf, it is quite likely that they have it back there. But I'd suggest giving them a call upfront, so they can put your order together for you to pick up.
In the studio we had the chance to take a look at some 3-ups that would be shown the day after that on Salute. And some other things, that will be announced later this year. I really like the photo corner, where they take picture for the books and website. I need to get my hands on a backdrop like that.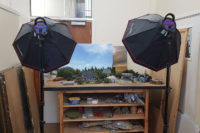 Thanks to Steve for showing us around and to Paul and John for having us. If you're into historic wargaming, Warlord Games should be one of your must-haves during a visit to Nottingham. If some of the pictures look familiar to you and you're in wargaming since the 90s, that is no coincidence. John Stallard, one of the owners, was Sales Director at Games Workshop back then, and with Paul Sawyer, former editor of the White Dwarf, the two put their knowledge into their new company. And the success of Warlord proves them right.
There are plenty of parking spaces at the Lenton Business Centre, so that is not a problem. And while you're there, you can take the chance to drop by Footsore or North Star, who are located at the same location.
If you want to go to Warlord Games Day yourself, you're lucky the next one is on June 23, grab one of the 300 tickets here.
Enjoy this article?