As covered in the article on CONflict two weeks ago, I'll be taking a summer break on events after this weekends TableTopia. But you'll find the event coverage on the blog on sunday, maybe late saturday.
If you're following me on instagram or facebook, you might already know, that I have some promo material for Munchkin Warhammer 40k, that I recently reviewed on the here. Pegasus Spiele sent me bookmarks and the For the Emperor cards. Want some? If you see me at a show or convention, ask me and I'll give them out as long as stock lasts. Beginning today at Aschaffenburg.
Another reincarnation of the Ambull is going to be released today, after the Dread Ambull, the Necromunda gang leaders can bulk up with some big buys, the Luther Pattern Ambots.
Back in April 2018, so almost a year ago, we saw the first artwork in a teaser by Forge World. So when the miniature(s) were introduced this January on the New Year's Open Day, it was a bit of a surprise, that the Ambot would be released as a plastic kit, available at Games Workshops and independent retailers, not as a resin kit (like the bounty hunters and such) exclusive through Forge World.
The Ambot is a mechanical recreation of the Ambull, using its instincts to claw and dig through soil, as a mining robot, or in high-gothic the Luther Pattern Excavation Automata "Ambot".
I saw this picture on facebook, it is a K2SO toy converted by Steve Perry (Rubicon Models UK represenatitv) into a 28mm terrain piece. That would be awesome for all kinds of Sci-Fi settings, from the Ashwastes of Necromunda, over Gates of Antares to Rogue Stars.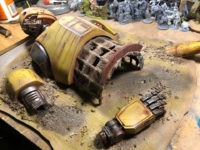 Last Sunday, shortly after I finished the coverage on my visit to the Lord of the Rings Hobbiton Movie Set, the first info from Forge World Open Day trinkled in. And it was quite hot news. The first guests in the line were handed flyers covering the artwork below, announcing the rerelease of Necromunda!
For a last time before christmas, on the 4th advent, I'll pick another interesting three project, that I want to share with you.
The first one brings us to the Vault! An amazing elaborated project by Deltadog, who's working on a Fallout themed board game for himself. With a lot of attention to detail this project has grown to almost 50 pages on Lead Adventure.
I'm quite amazed by the recent release of the Genestealer Cult. Games Workshop seems to do a lot of interesting and well meant things currently. Horus Heresy in plastic, first look at Adeptus Custodes in plastic as well, and then these Rogue Trader flashback in form of the genestealer cult.
I was already hooked when they released Deathwatch Overkill, and I managed to acquire the part of the genestealer cult for a small dime.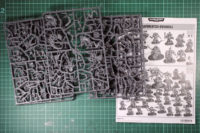 The rumours are spreading and growing wild, so far only one thing was confirmed - Games Workshop is re-founding a studio for the Specialist Games.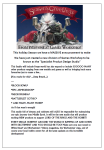 Is this a reason to get exited? Yes and no. Why both answers? It depends on what you are looking for.
Mantic Games released for Mars Attacks these nice Trucks in 28mm scale. They are proper hard plastic, come in a sprue etc., no restic, no resin, straight forward good old plastic. I got myself a set of 3, for general purpose in Necromunda, Zombie Survival etc.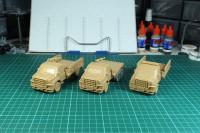 While re-arranging the shelfes, i freed up a second one for my Inq28 / Necromunda / Inquimunda Collection. So i decided to proceed doing inventory and basing some of my collection. Therefore i needed to restock on bases.
My Dark Eldar Warband is based on some Voodoo Worx Alien bases, that range was sold to Secret Weapon, so i had to buy them in the states. Fun fact, they arrived at the same time as the Dark Art Bases below, ordered in the UK.
My vacation has now officially started, its thursday morning and there is a long list of to-dos for three and a half weeks of time.
What is the starting situation?
Well, first of all, i got some support with another Boba Fett, who's sitting on my monitor. He complements the star wars theme with the two lego flyers, the x-wing miniatures game and the Boba Fett dice holder (you remember?).