While sorting through the miniatures and getting a feel for the volume, I realised that my actual problem aren't the miniatures (they are mostly 28mm, so that's not that tall, and I don't do mass combat armies) but the terrain. And after going through the boxes and opening up the 4th box (of a few more) with Necromunda Bulkheads in it, it dawned on me that I might went a bit overboard on them.
So my stock went above 200 of these, that's more than I need.
But how many do I need? These bulkheads were released along side the Necromunda in the mid 90s, they came in a sprue of 6, with 4 different designs (2x A, 2x B, 1x C and 1x D). The Necromunda box set contained 30 of these, with the outlanders supplement two sprues / 12 bulkheads came on top. The Necromunda starter terrain was re-released by Games Workshop as a Warhammer 40.000 terrain kit under the name "Industrial Battlezone".
These bulkheads were used with cardboard pieces to build easy, pre-painted and light terrain. Since like forever, I have in mind to replace the brittle and worn-down card board pieces (assembly and disassembly just frayed the edges and corners) with plastic card, as If it weren't for ones and 40kHamSlam did with theirs.
But Games Workshop didn't keep it with just the underhive, but some very iconic terrain kits, that were often seen with the White Dwarf battle reports in the "good old days". Like the Imperial Bastions, the Firebase, Command Tower, Battle Bunker and beyond that for a part of the campaign kits and Gorkamorka box set.
I rebuild the Firebase and Command Tower in MDF a long time ago, but want to recreate these in the same way as the Necromunda terrain, with plastic card replacing the card board. I am not sure, if I am going to do this by hand or get myself a flatbed plotter / something along the lines of a Silhouette Cameo.
What would I want to recreate?
2x Necromunda box set at 30 bulkheads each
1x Necromunda Outlanders set at 12 bulkheads
1x Imperial Bastion at 12 bulkheads
1x Imperial Firebase at 12 bulkheads
1x Imperial Guard Command Tower at 6 bulkheads
1x Imperial Battle Bunker at 12 bulkheads
Makes a total of 114 bulkheads, that I actually "need". Sorting through that I have the same amount of each, I got myself one of the old box sets and filled it up with 18 / 36 of each design.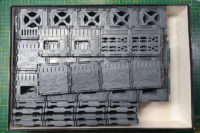 Another 36 were put aside for Christian / Fritz and his projects, leaving me with this lot to sell / trade in.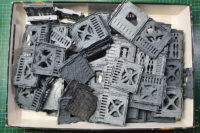 What am I looking for? I have some gaps in my Necromunda collection (I have to add Pit Slaves and Scavvies, but I didn't had the chance to do a proper stock on them yet).
House Orlock - 1 kid, that pose
House Goliath - 1 kid (that pose), 4 gangers, preferred these two poses and two randoms
House Escher - 2 gangers from the shown poses
House Cawdor - 3 gangers from the shown poses, 1 heavy with grenade launcher
House Van Saar - 1 heavy with plasma, 2 gangers random poses
House Delaque - 3 gangers from the shown poses
Ratskins - 1 kid, one of those poses, and one ganger, that pose
Redemptionists - 2 gangers, those poses
Hired Guns - that Beastmaster
Bits - looking for these backpacks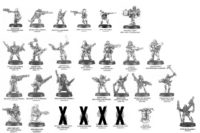 If you have these and are willing to split for trades (bulkheads, Necromunda or Middlehammer stock) / at reasonable rates, let me know.
Enjoy this article?