I saw this picture on facebook, it is a K2SO toy converted by Steve Perry (Rubicon Models UK represenatitv) into a 28mm terrain piece. That would be awesome for all kinds of Sci-Fi settings, from the Ashwastes of Necromunda, over Gates of Antares to Rogue Stars.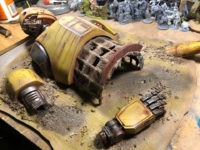 As it has been a week since the release of Rogue One in the cinema, it seems like a fair point of time to talk about the movie without spoiling anybody or wasting their experience.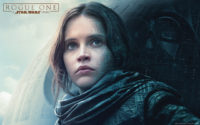 Image: © Lucasfilm Ltd
Aquarium deco pieces are useful if you're looking for something special as a terrain piece. So this buddha statue would be a nice addition for a jungle scenario, like burma, and at 13 Euro quite cheap. So i added a picture with a 28mm miniature, to show the incredible size of that - prepainted - piece.
Mid of the january we continued our painting projects. Flo on his - now enlarged - Mars Attacks collection, and i continued on the spaniards. I've added a few pilgrims as another 1 point selection to my crusaders. Those are perry miniatures codes CU26 and CU27.
I found this one back at Spiel last year at Micro Art Studios booth. Saw it and thought, that is a must have for a gaming table, and at 16-18 Euro it is reasonably priced.
Warlord Games released a couple of nifty things earlier, among them the Polish Black Brigade and CFC Lee.
How interesting ist Imperial Assault for a wargamer?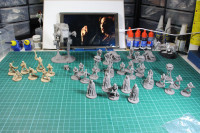 Back for a last update before christmas.
I continued on building tanks, after converting the Shermans. So i got my hands on a Panther Ausf. A from Rubicon Models and a SdKfz 234 Puma from Warlord Games. I filled the large turret hole in the chassis with a renedra base and some putty. So what is the final product? It's a Aufklärungspanther, a fictional build that is known among others from World of Tanks. I have to be honest, the Ausf. A wasn't the best base for the conversion, if you want to do it, i'd suggest the Ausf. G.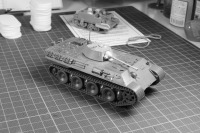 My vacation has now officially started, its thursday morning and there is a long list of to-dos for three and a half weeks of time.
What is the starting situation?
Well, first of all, i got some support with another Boba Fett, who's sitting on my monitor. He complements the star wars theme with the two lego flyers, the x-wing miniatures game and the Boba Fett dice holder (you remember?).
Its been a busy weekend. Doing some chores in the flat and taking some time to clean up and organize the new home. And of course, spending some of that time in my beloved home office for miniature goodness.
But before we come to the serious stuff (as far as miniature wargaming can be serious), some childish things first. I stumbled upon some smaller LEGO Star Wars planet kits (they come with an planet, a minifig and a vehicle / space ship) in Belgium in a toy store and was struggling with my self to buy me an X-Wing. The price of 13 Euro kept me from buying one. But earlier this week I was shopping at LIDL and they had the same kits for a special price of 8 Euro. Well, long story short, here we go ... an AT-ST Walker incl. Pilot and Endor as well as the already mentioned X-Wing Starfighter incl. Pilot and Yavin 4.