After a 5-year pause, we return for the Internationale Spieltage, or how it is more commonly known as SPIEL 2023 in Essen.
And quite a few things have changed since the last time. This is the first show under the new ownership, as the Friedhelm Merz Verlag, who is the organiser of the show, was bought by the Spielwarenmesse eG, who hosts the International Toy Fair Nürnberg. This means, both events, the largest show for consumers and largest show for traders, belong to the same company.
Other things have changed as well. The ticket to the last show I visited in 2018 were 13 EUR, and now you have to pay 22 EUR for a day ticket. And I remember that in the past, you were able to park near the show, but that's off the table if you don't have access to an exhibition parking ticket. You are redirected to a park & ride parking lot, that is handled incredibly inefficient, park your car, stand in line to pay 8 EUR, get a token, that you hand back once you leave the parking lot after the show. Usually, you pay when you enter the parking lot, or when you leave it, without the additional queuing in front of a container. Never the less, the park & ride shuttle was on a good schedule, yet adding further 10-15 minutes each way to your travel.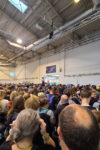 The show opened up 10 am sharp, and with a lot of other visitors we were able to enter the halls and made our way towards Hall 1, where miniature games were exhibited. Our first stop was at Games Workshop, who even had some show exclusives and remaining stock of sold-out stock on shelf. The focus is a bit different at SPIEL compared to other shows, while you would expect more demo games, they had a large painting area, where you would be aided painting miniatures.
Osprey Games was only a few meters away and brought along their board games. Nothing from their wargames series. As they don't offer the miniatures themself, it made more sense to cover a different stock. Something you will notice as a wargamer at this show quite often. This is a game show, with board games covering miniatures, not the other way around.
One of the few exceptions from this is Warlord Games. They had a demo table for Black Seas, with a nice hint that we will see a German translation of the game. Beyond that, the Bolt Action novelties were quite popular and sold out. But they had another announcement, that we will see campaign game Vanguard Normandy. You can sign up for more information on their page.
As for other miniature companies, there weren't that many around. Freebooter Miniatures had their new sci-fi game with a brand-new demo table at the show. And Mantic Games had a small booth as well. Beyond that, more hobby products, like paints (AK Interactive, Vallejo among others were there), dice manufacturers, and broader accessories like multiple companies offering premium gaming tables.
Beyond that, it is board game show. This is what the SPIEL is about. I think a lot of the other product ranges got smaller. On some parts this improved, for example I remember a lot more booths just being promo for upcoming kickstarters, but I remember having a variety of games / toys (like a stronger presence of educational games), instead of just board games.
Something else, that shifted, at least in my perception, was the presence of manufacturers. I knew them from the show in Nuremberg, where all the printing, casting and logistic suppliers were having booth, but hall 4 was almost completely filled with companies from Asia, who produced the game, that were financed for example via Kickstarter by CoolMiniorNot and other companies.
I was looking for some show offers, maybe Sunday is too late for the good deals, but a lot of things I saw weren't really good prices. To give you an example, while there were still promos of Star Wars Legions on Saturday (85 EUR isn't that cheap for a diorama between Vader and Luke), the Marvel Crisis Protocol starter bundle is available at various traders with 10% off what Asmodee sold theirs at the show.
When I think, that I initially thought about going to the show with my family, I am quite glad that I didn't. First of all, you have to pay for kids as young as 4 years and in our case the family ticket of 55 EUR would only save us 2 EUR and due to the products shown at the show, a visit for somebody younger than 7-8 years makes almost no sense. Beyond that, I was looking for something to bring along and didn't find anything for me or my kids, that really spoke to me, so I came back more or less empty handed. I got a sample sprue of the new plastic French for Bolt Action at Warlord Games, and a show miniature at the SioCast booth, and that's it.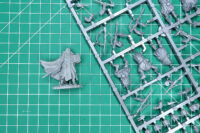 Was the show worth it? Phew, as a wargaming customer I would clearly say, there are far more appealing alternatives, from Tactica to other wargaming events, and even as a Content Creator it wasn't that interesting, but I had the chance to meet a few people in person (that I could talk to at UK Game Expo, a Nottingham Trip or other shows like Crisis in the past). Unless you're really into board games and in case of your kids, they are at least 8+, I would recommend some of the smaller events like local play events.
Enjoy this article?