After recently looking at models from the Army of Hades and the Army of Zeus, in this review we come to probably the most elite faction in Mortal Gods Mythic, the Army of Hera, with Medusa.
The model is one of the larger models from Footsore Miniatures and is accordingly cast not in pewter, but in resin. Right at the beginning I saw one of my biggest criticisms corrected - the packaging is a solid plastic blister in which the model is protected from major damage, especially when shipped with other models.
The Gorgon comes in eight pieces, consisting of the body, which comes with its own scenic base, the tail piece, wings, arms, a sword and a quiver for the bow.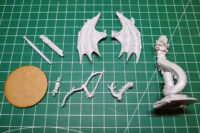 The design of the model gleams with the flair of classic Hollywood movies in the style of Ray Harryhausen. The model was again designed by Trish Carden, just like the Civilized Centaurs from the previous review. Especially the casting quality is of excellent quality this time. I would like to see the same from all the Mortal Gody Mythic monsters in the future. Unfortunately, the product image on the webshop from Footsores does not do the model justice - but maybe we can change that with some additional pictures of a painted variant.
Can these eyes lie?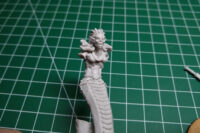 Only when assembled one can see how huge the model actually is. In addition, the high level of detail already invites a more elaborate painting at first sight. The size falls just as much into the realm of "artistic liberty" as the serpentine body. In fact, the Gorgons were all winged, but had no snake body. This was often associated with another creature, the Lamia, a kind of ancient vampire.
CONCLUSION
At just about €40, the Medusa is clearly one of the more expensive models in Footsore Miniatures' Mythic range, but can impress with its high level of detail and excellent cast. The model's secure packaging has also been a noticeable upgrade from the Zealots and Centaurs. As with nearly all resin models, you may need to do some touch-up work on the joints and use super glue, as plastic glue won't hold here.
Design-wise, I can't help but get excited - I mean seriously, how cool does this look? That cool, deliberate look as the Medusa slowly reaches for the next arrow....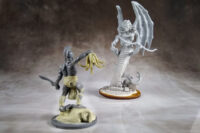 Since I was sent this model for painting, we will discuss this quite extensively in later articles - at this point I can also only express my thanks to Footsore, the model is absolutely great!
Greetings from the Chaosbunker
Dino
Mortal Gods is a brand by Footsore Miniatures
The reviewed product item was provided by the manufacturer.
Enjoy this article?