I got my kits via a dutch onlinestore, Tabletopper.nl, and shipping was quick and easy. Shipping rates are reasonable, and I got some other items along with the bedford trucks as well, an Austin Tilly and some stowage.
The British had a variety of trucks and tows in service during the war and especially in North Africa. With the Bedford QLT and QLD kits available as plastic kits, I could take care of that addition to my forces, as most of the vehicles are regular combat vehicles, as you can see from the first article, with the exception of some lighter vehicles / armoured cars.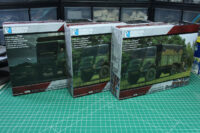 In Bolt Action these are 3 ton trucks with the capacity of 12 men, and you can go for a QLT upgrade to boost that up to 29. To be honest a bit of overkill, but I went with the kit more for the aspect of variety as for the actual opportunity to carry all of my men in a single vehicle.