To create the Sd.Kfz. 7/1 variant, the Selbstfahrlafette 2-cm-Flakvierling 38 auf Fahrgestell Zugkraftwagen 8 t (self-propelled anti-aircraft half-track), I'd need flakvierling kit by Rubicon.
These kits are already planned in a way to be combined, so it can be build either as a weapon team of itself or optional mounted on the flatbed of the Sd.Kfz. 7.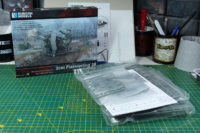 The kit comes with a crew, of which I am not really fond, so these will be replaced with the proper crew from the Perry Miniatures as range, as this vehicle and AA-gun will be deployed with my Afrikakorps.