As already mentioned with the review of the Afrika Korps box, the Western Desert supplement is supported by two new infantry kits, and here is the second one, the British 8th Army Commonwealth infantry kit.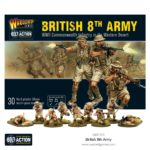 As these were prepared at the same time, we had the chance to see the 3-Ups at this year's Salute in April 2018. The Africa campaign is something special to many wargamers, especially those with relatives, who fought in that battle. The duel between Montgomery and Rommel is often connected with some kind of chivalry, a mutual respect between both opponents. Surely glorified to some degree, as war is war, but still a somewhat special part of World War 2 and therefore of special interest for many people.
Similar to the Afrika Korps box, who was released 1973 (!) by Airfix, the 8th army plastic kit was even around earlier than this, in the 1960s, so for some of the veterans in our rows, these were among the first toy soldiers they to play battles on the living room floors or kitchen tables. Thus reminding many wargamers to their first memories of this hobby.