Warlord Games released a new plastic boxed set, Italian Army & Blackshirts, to accompany the latest campaign supplement Soft Underbelly (review on its way - book stuck in transit ... somewhere). And it is not just multi-part plastic but gives you the option to build Italian forces for early and mid-war in Europe and North Africa, along with Black Shirts.
This box is a huge update to the Italian army, as most of the Italian Bolt Action range is made from the rather dated, initial range along with not many other manufacturers covering Italians in 28mm. In this case we get a box of 30 soldiers, that can be built as either Italian Army forces in regular and tropical uniform, or as the fascist militia Camice Nere, Blackshirts. As usual you get 5 sprues with 6 soldiers each, an instruction leaflet, a small decal sheet (that can be used for other Italian units as well, like the Bersaglieri, Alpini and so on) and 25mm round bases with a small lip. The price is set at 33 GBP.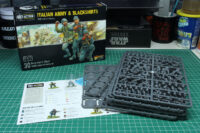 The double-sided instruction leaflet lists all of the included parts in the sprue and gives you an idea for composition on the other side. Unfortunately, they spend a lot of space for the insignia of the decal sheet, but not which gear fits which units or time frames for the different theatres of war.
The sprues are tightly packed, as you can see a lot of head options, and not just fez, helmets and pith helmets, but field caps as well, along with various bags, daggers and other gear. The details are good, just the mould lines a bit present compared to other casting runs. And in my case, a few bent weapons as you can see.
Content wise you end up with 10 (!) LMG with this box but "just" 5 SMG. That is not a big problem, as you can't use that many SMGs compared to other forces in their regular units / the units buildable from this box set.
You get a total of 6 different poses from each sprue. Three standing, two advancing and one kneeling. Pose 1 and 5 are wearing Camiciotto Sahariano smocks, the others either M37 or M40 tunics. The instructions don't really go into detail which uniform fits which unit or theatre of war best, but Osprey's Warrior 169 - The Italian Soldier in North Africa 1941-43 should provide some further information on that topic, as some snippets I found online let to assume, unfortunately I don't have access to that book to clarify that matter.
I like the smaller details on the miniatures, as they even sculpted the studs on boots sole.
I prepared small groups of the miniatures to give you examples of how to combine the included parts, starting with Italian Army in tropical uniform. I went with the bodies in Sahariano socks and a regular tunic, giving them the pith helmets and a bustina modello 42, that I found saw on one of Osprey's colour plates. You can see a strong similarity between these, as the faces / their expressions are overdrawn and sometimes very close to the distinctive style of the Osprey illustrations. And a great "easter egg", if you want to call it like that, the left arm making an "Italian gesture". As each sprue covers two LMGs, I gave the tropical soldiers the one carried on the shoulder.
The next batch would be the Blackshirts, using the M37 and M40 tunic bodies. They have access to the LMG as well, so I build a weapon team, including a second soldier carrying the gear and loader backpack with spare barrels. The Blackshirts have their iconic head gear of fez, along with the LMG gunner wearing a hard fez. In some cases, to make the position properly fit, you will need to bend the tassel, as I had to do it on the loader.
And the last batch of four, will be "regular" Italian soldiers, wearing tunics along with steel helmets and a field cap. The parts on these sprues will not only give you the option to build regular squads, but command units as well. So basically, you could build a roughly 500 points force from this box (HQ of 3+ 3* 9 Soldier squads). The only problem is, the lack of left arm options. You have a pointing arm and the Italian gesture, and that's a not really much variety to go with your grenade, pistole, field glasses, rifle slung on your arm and dagger options for the other arm.
Fit is good so far, different arm pairs go along well with the bodies. Just some heads and bodies connect rather tightly, creating short necks.
For the next step, all the gear and smaller items, that are attached to the miniatures, I highly recommend these books for the colour plates:
Some items are self-explanatory, like the LMG tool pouch, but I wasn't sure what would be the appropriate choice between Model 1933 gasmask bag and the Type 35 gasmask bag, or how to attach the googles (helmet, around the neck?). I think the space on the leaflet would have been better used (or at least a blog post on their page) for that information, compared to the rather broad coverage of the decal sheet insignia. Anyhow, as mentioned above, the colour plates from the Osprey books were a huge help.
For comparison, the Italians fit right in with the other plastic kits by Bolt Action and newer metal range. They are heroic 28mm, and have therefore different proportions / measurements than the Perry miniatures range.
In the first picture the Italians (3 + 5) and seen with Bolt Action British Airborne (1 + 4) and Empress SCW (2), and Bolt Action (1) as well as Perry Miniatures (3 + 5) in the second picture.
You can see the versatile use of the box here, in the different options / variants they are buildable, as regular soldiers, blackshirts and tropical uniform.
Conclusion
This is a very solid backbone for a new project. I am curious if we see something like the Commandos for the Allied troops, with an alternate cut of the sprue for Bersaglieri or some of the other units. As from my current point of view armament and the feather on the hat (honestly, that would have been easy to fit the 5-6 optional feathers in there. Otherwise, get in touch with someone who has landsknechts, Warhammer Empire or something similar and get some of those and build your own. I assume, combined with some of the German sprues that are available by Warlord, you can build some of the late, post '43 Italian forces.
Unfortunately, the boxes got another price raise. Before Brexit they went up from 25 to 29,50 GBP and are now 33 GBP. It's still reasonable and there are many traders giving you a decent discount, but now we've crossed the more than a pound per miniature range. Yet, casting is well done, mould lines can be an issue on some of the production runs as it seems, but yet you get proper quality all in all.
As an army, either for Bolt Action or Konflikt '47, these give you a lot of options, especially mixed with further bits. There are some really nice kits to go along with the range, like the Carro Armato and Semovente combi kit, yet the weak point of the range in my opinion are the rather dated and smaller scaled weapon teams and support squads. But they would do a great addition / supporting platoon to a Afrika Korps army.
I have to check, how the plastic kit works with pre-world war 2 conflicts, as early war miniatures often suit the 1930's conflicts as well. And Italy was involved in a lot of them, like the Spanish Civil War, Second Italo-Ethiopian War, conquest of the Horn of Africa and Italian colonization of Libya.
Bolt Action is a brand of Warlord Games.
The reviewed product item was provided by the manufacturer.
Enjoy this article?