So, let us kick off into 2022! We did a sum up of the last year earlier this week, now let's focus on the new year and opportunities.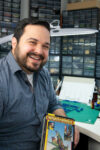 If this is the first time on this blog. Welcome! My name is Dennis (aka SiamTiger on some boards), I'm a wargamer for more than 25 years and ran blogs and portals on that topic for about half that time. I enjoy writing about wargaming, especially reviews of which you can find about 300 on here, and am supported by Daniel / Dino on topics like Mortal Gods, Gaslands and Blood Bowl. As we're wargaming dads and most of our wargaming friends are, time is a precious commodity, that should be well spent. That means for us, having a fun time around our hobby; narrative scenarios, painted miniatures, foods, drinks and not having to argue about a dice throw or manoeuvring motion.
With that in mind, you'll find articles on mid to late 90's Games Workshop on here, Bolt Action, and some other game systems not from Nottingham, coverage on conventions, shows and day trips.