Earlier this week, the first part of my Lake Town kitbash went online. We started with the main building, next up the stairs and pathways, and I'm already on that, as you can see.
The next step for my middlehammer beastmen warband went quite well, got feedback on how to achieve the 5th edition look. Most used newer Citadel Paints, but there are conversion charts for that, so I'll be able to figure that out.
I finished the Hagen Miniatures vessels for Black Seas, which will be covered in the next few weeks with a themed Black Seas week (along with named 3rd rates and Schooners).
In case you have a gaming mat using "mouse pad material", it is quite likely that it's made from neoprene, as for example my sea mat for Cruel Seas and Black Seas. The Sendung mit der Maus had a special and visited SEDO Chemicals at Fürstenwalde in their manufacturing plant and showed how the material is produced.
And I'm currently preparing the Bolt Action supplement Campaign Stalingrad for the next review. As for Warlord Games supplements, next week the expansion Close Quarters for Cruel Seas will go online.
As I was asked to cover a scale comparison of Luther Wulfenbaum from the Mordheim Group. As you can see, it is in much slender proportion and a bit larger compared to the original Mordheim kit (later released / re-used as Imperial Militia).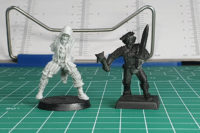 Following up on the Blood Bowl 2nd edition from last week, I am thinking of parting from a few Space Marine Veterans, among them regular vets, Black Templar Sword Brethren and a few Ultramarine Honour Guard converted with Black Templar bits. As well as the Freebooter Legends from the Indiegogo campaign. If you're interested, drop me a message.
Beside gaming mats, I especially like the ones with teddy bear fear, I prefer flat modules, that can be further expanded with add ons and toppers. A really great tutorial for a simple battlefield has Rob Hawkins, who runs a very inspiring blog, here along with a swamp variant.
As for movies and tv-shows, I am now in season 2 of Star Trek Voyager (the first one is much shorter with only 15 episodes than the regular 22-24 episode seasons). It starts bold, with some really odd design choices (aliens with feathers or jump suits), yet, Star Trek was back then already so "woke" and inclusive, maybe that's the reason why Discovery feels too forced, as they try to top that. Overall the series is good, yet a lot of episodes especially in the early seasons are not really adding anything to the story arch and you could probably skip them. And with Seinfeld I'm already in season 7, as it is quite easy going. It is funny to see the parallels on many story arcs and behaviour of the characters in comparison with Curb Your Enthusiasm, which is no surprise as Larry David is included in both, yet fells less than an homage, more like lazyness to come up with something new.
That's it for today. Stay safe. If you want to know what I am up to during the week, drop by later or follow me on Instagram.
Enjoy this article?