Earlier this week, Warlord Games announced Sea Monsters for Black Seas. Which is quite cool, as I was already looking for a white whale miniature. And I managed to clean up all of the schooners. Lot of pewter ... unfortunately rather soft pewter.
More and more things are back to normal. The bite-size issues of Wargames Illustrated are over, and the regular issues are back with Wargames Illustrated #391. If you're looking for the printed issue, you'll get a sprue of Bolt Action soldiers as well.
A new arrival for the review schedule is Munchkin Warhammer Age of Sigmar. I already covered the 40k variant of Munchkin, along with the supplements Faith & Firepower as well as Savagery & Sorcery. There are already three supplements announced for the AoS variant with Death and Destruction (Undead and Orks), Guts and Gory (Ogers and Undead) and Chaos and Order (Chaos and Kharadron). As well as a third supplement Cults and Cogs for Munchkin 40k, bringin Genestealer Cult and AdMech into the game.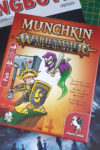 I am still not decided on how to present the limited miniatures (well, beside that they should be painted), but I have some wargaming merch and collectibles, that I could list. For example, t-Shirts, pins and dice, with info on when and why they were released. As a compact collectors guide, at least on the items that I own.
HANS! is on the road again. The travel stuffbox came along last year and a new packed set is on its way to me within the next few days. I have already looked through my stacks to see what items I would donate to the box. Hope to find some middlehammer things for my ongoing projects, other than that I don't really have a specific need currently.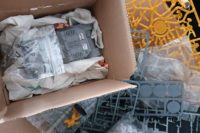 I treated myself with a new Lego Technic kit, the 42108 mobile crane. The A-model (yes, Lego is lame and drops more and more B-Models, as with this one, no B-model at all) is not that convincing, but when I saw the MOC by M1Longer, I had to get the kit. Especially as it probably will be dropped next year and the price is as low as it gets (RRP is 99 EUR, got it for 71 EUR).
As I am a huge Sopranos fan, the current Joe Rogan Experience with Steve Schirripa and Michael Imperioli (Christopher and Bobby) was a must for me to see. The upcoming releases on Netflix were announced, The Old Guard looks m'eh, wether or not its a comic book movie. But I am looking forward to Norsemen Season 3, as it is easy and entertaining.
I wrote about Curb your Entusiasm last time and it's parallels with Seinfeld. I wasn't aware that the final of season 7 of CYE actually had a Seinfeld re-union. I will have to get into that, after finishing Seinfeld. I enjoyed the easy way of Comedians in Cars Getting Coffee. Would love to do something like that for wargames.
That's it for today. Stay safe. If you want to know what I am up to during the week, drop by later or follow me on Instagram.
Enjoy this article?