In May I participated in the latest "Stuffbox" from the Sweetwater Community, the one from TabletopWelt got lost by Hermes - great job guys! But a new box was packed and went on its way. And with an eye on the tracking I knew HANS! would arrive today. A brief ring on the door bell and a small lipped good morning by the postman confirmed that and the heavy load of the content.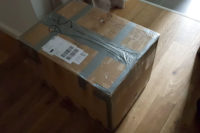 Made some room to really enjoy the deep dive into the box, and get a proper overview on the content. A lot of interesting stuff, quite the staple of boxes and bags. It'll be fun to browse its content.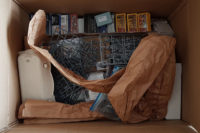 And I found something of interest, the following items:
Oathmark Goblins
Old minotaurs
Tactica event miniature
Killa Kans
Jugula rulebook
In exchange I put the following items in HANS! for the further journey.
Chaos Space Marine Raptors
2 Bolt Action exclusive miniatures
Warzone Purple Sharks
Warzone Brotherhood starter box
Old Warzone / Chronopia miniatures
2 sprues of Perry Afrikakorps
3 sprues of Bolt Action Waffen-SS
1 sprues of Bolt Action Soviet Infantry
2 sprues of Caesars Legion
2 sprues of Gripping Beast Late Romans
1 sprues of EIR romans
2 sprues of Terminators
2 sprues of Resistante soldiers
PlasticCraft Container
and HANS got sealed again and went back on its way to the next one in line. Kharn already has the shipping nummer and it should arrive early next week.
Enjoy this article?