All right, I' ll admit it - this is the first time I' m looking forward to a project under time pressure. It's probably because I like the subject so much. I can literally see an army of the dead rising before me.
But even an army of the dead needs something to give it character - in the case of Mortal Gods Mythic, it is the fallen hero who is the counterpart to a Promachos.
The conversion was fairly easy, composed of a body of the Hoplites from Victrix, limbs from remains of the Warlord skeletons, leg splints from Roman veterans, also from Warlord, and an old cape from the GW marauders. There I removed the tied up skull from the rear.
What was really exciting was the armour - I didn't have any bronze paint in my collection, so I just mixed gold and brown, which worked quite well in the end. Especially with the shields of the awakening skeleton I could experiment with it very well.
I mixed the green rust, which is typical for bronze, from grey and jade green, which I thinned out strongly, so that I could apply it to different areas. In a second run I then added a little more jade green, which represents the more corroded areas.
Overall, I am satisfied and my enthusiasm has not been lacking. So I managed to finish a small bonus round even before the start of the Summer Project, which I otherwise would have had to do afterwards. If the Summer Project goes well, only a Hydra will be left to complete the bigger picture of the army.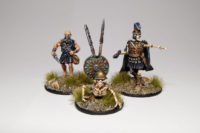 It wouldn't be long now. Almost every evening Nekrodigos awakened new servants in a hidden cave just outside of Corinth. Yes, soon the master would reach out to him and give the order to attack. Soon... Corinth would have a new ruler...
Greetings from the Chaosbunker
Dino
Enjoy this article?