We've done the sum up of last year already, so let's take a look ahead and see what 2023 has in it for us:
As a starting point, I looked up the 2022 Kick-Off article, to see what was the status quo, and what changed. Biggest improvement - not just spending hobby time by myself. In addition, as I am working as a sales rep, the re-ignition of actual (meaning offline) events was something that I really was looking for, so the lack of those was not hobby exclusive.
So that we could move from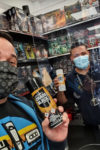 to here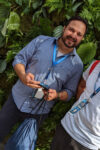 Shows, Conventions and real-life gaming meetups
I'll update the event schedule on here and prepare a post for 2022. So far booked are these;
For a lot of shows, like Poldercon, Utrecht NL, Ad Arma (Meckenheim, GER) or Tabletopia (Aschaffenburg, GER), there aren't any infos out yet, but we're looking forward to it and keep you posted. If you are hosting a convention in the DACH / BeNeLux area, and would like us to come by, please drop us a message.
This is a mayor improvement for this year. But beyond that, unfortunately a lot of things that bothered me in 2021, did not change that much in 2022. I made more use from functions like unfollow, ignore and block on social media. Why does this even bother me? I use facebook more or less exclusively for hobby related topics. As wargaming is a semi-professional market, you don't stay in touch via LinkedIn, but  via facebook for example. If that wasn't the case, I would have probably left a long time ago. I used to do a lot trading via facebook, but since Brexit, the aspect that you can't filter in trade groups for regions made them pretty useless for me - in addition of the overall scalping mentality, which has gotten even worse. I am really looking forward to some Bring & Buys this year, as I have mixed stock, with a lot individual items, and that is incredibly time consuming to sell online and I rather spend half a day behind a table. HANS! is a good thing, but I don't want to "dump" my old stock in there, rather looking forward for a revival of the Bitbox.
3D Printing
I had my eye on additive manufacturing for a while, but I am still impressed, what end consumer hardware can do at such a low price point (compared to 5-digit sums not that far back). In 2018 it was very much limited to commercial use, and for example the masters for The Walking Dead by Mantic were produced that way, with "regular" production methods like injection moulding, spin casting etc. for the final product. In 2020 I tried out some print services with mixed results, but overall - limited by pricing - positive feedback. In march of last year, I got myself an entry level printer on sale for 180 EUR (!), with further tools, equipment and consumables that added up to around 400 EURs, so not that cheap, but still affordable and I am again amazed by the results I can print at home. For everything larger or more complex, there are other options for example MegaSonicPunch or Excellent Miniatures.
This is something, that can make such an enormous difference for our hobby. Providing us with niche products, that otherwise would be to difficult too produce. It is an asset for me for example with bits and conversion pieces, like backpacks, shields etc. for my retro projects, and I would love to see some kind of Panzer 1946 in ~28mm (make it 1:48, it's an STL, you can scale it up or down). Yet, this technology has become more accessible, it is still not simply plug and play. It is not that tinkering as it was a few years, but it is still not as easy as taking food from a microwave - even if many people describe it that way. And it can be cheaper than other means to acquire miniatures (You know, like a 10 buck miniature on eBay, with another 10 bucks on top for shipping and then a 6 EUR handling fee, along with 19% VAT ... so yeah, buying that STL for a few bucks on gumroad and printing it, is usually cheaper). Yet there is of course a huge can of worms around the corner with digital products, among other topics with leaking of files, scanning and IP infringement. But we won't go there today.
Delivery of Baron's War: Outremer
It pledged the individual sculpt in this campaign and am really looking forward to the personalised miniature. I already have my Spaniards, I used the new miniature choices from this campaign to build an enemy force - the Moors. In favour of this project and to balance out the stock, not simply add to the project schedule, I sold my Game of Thrones project idea, built around Perry Miniatures War of the Roses models. This is a medium sized army project, so tabletop standard will be sufficient from a painters' quality claim. As you can see, there are already some base colours on there. Rule wise, I want to be open and use it with systems like Baron's War, Lion Rampant and Saga.
I must paint up a maniple of Legio Astraman. Full Stop. And even if that is just for the very rare occasion of the meetup like in February. I hope that this will further motivate me to get my Imperial Fists painted and move on from there. As I still am not that familiar with the miniatures, I setup a mood board, that I can look up on my tablet for further orientation, what to paint how. This is less disruptive and bears a lower risk of stopping painting.
The only miniatures, I managed to paint in 2022, were my classic Chaos Blood Bowl Team - the Mordheim Marauders. That's a bit below what I aimed for, but still - it's something. I am already preparing the next team, it will be something very different from Chaos, both from a point of miniatures and tactics, to have a proper counterpart very early on. I do own since last year, a full copy of the third edition range and am currently discussing with Dino the next team colours. (Spoilers: He's not much help 😀 )
Transfers
By 2024 I'll be forty, working full-time and having two kids, the amount of hobby time I have (left) is limited. This not a shocking surprise, but something that tackles you quite hard from time to time. For that reason, I want to reduce the distractions even further. One thing for example is, my studio covers too many things, who sidetrack me. And while I went through my collection in 2021 before the move, and again to a point last year, I need to do that in a far stricter way. Because even if I have the space to house these, I don't have the time to work on them. To give you an idea, many of my projects, I store in these sorting boxes. I have around 40 to 50 of the left ones and about 12 of the right ones in my studio. And I'm currently going through them to further thin out my collection.
The ones on the left cover a project each and the ones on the right are the spare parts and smaller lots, set upon my desk. To give you an idea, I have my Blood Bowl collection mentioned above spread across three of these "portable drawers", and for the 40k retro projects (like the Sisters of Battle or Imperial Fists). And while the centre pieces of my stock are trimmed, so for example I sold off the overhead of my Imperial Guard collection, narrowing it down to the platoons that I needed for a reasonable sized 2nd edition army (reasonable meaning playable with a sideboard, not full 15k points of Imperial Guard incl. 3 tank companies), there's still quite a bit that needs to go to fit the timeline and focus.
While I set the majority of my collection on Games Workshop products of the 90s (2nd Edi 40k, 3rd Edi Blood Bowl, Necromunda, etc. 4/5th Edi Warhammer Skirmish Warbands), there are still quite a few side projects, that are in question of leaving my stock, for example the modern combat project build around the Black Scorpion miniatures (along with a proper motor pool), where I would still need some Insurgents to play them with Force on Force for example. Yes, they make a great addition for The Walking Dead, some Black Ops or Spectre scenarios, but they are currently a strong candidate for being sold. Other things, that I need to evaluate is my Inter-War What-if German Civil War project, while I need to reduce the infantry in my Bolt Action collection, most of the surplus tanks (multiples, vehicles not part of armies that I play) are already sold. There are no new projects planned, with the exception of Warmaster I already have the stocks here of everything that I want. I guess I'll start with a taking inventory and go on from there, what else needs to go. Besides, that will give me a proper overview.
Game of Thrones homebrew is already sold, Modern Combat US troops is out for offers, Gaslands overstock (A lot of Matchbox cars), various non-GW sci-fi miniatures, Warmachine Khador project, Kings of War stock, Romans and Germans in 28mm, to name a few projects that I want to part with.
Technical Updates
Some technical specs, we went for a larger picture size. The thumbs are still the same, but if you enlarge them, you get now 1.620 by 1.080 pixel (former 1.280 by 853 pixel). Beyond that it is my plan to setup a fixed photo corner, for more  reproduceable / steady picture quality. I have a few LED panels here that do a great job, want to add one or two more, this time with RGB LED (to give me the option for tinted light, to recreate dawn, dusk et.) and a second Lightcraft, all those got quite more expensive over the last few months (+50-75%) without the tendency to go back down.
Final words
I am going to stick with what I told you in the last years - take care of yourself and the people, who matter to you. Beyond that, ,don't stress yourself to be better than somebody else, just try to be the best you can be. And while doing so, don't forget to be awesome!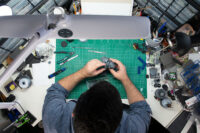 Enjoy this article?