For the Adeptus Titanicus project I already got into 3d printing and had some terrain printed for gaming and base purposes. So far I only had access to a FDM printer, that my buddy has in his mancave / lab.
I have my eye on additive manufacturing and often come across that topic on work related tours, as in the last few years at Formnext. At these there were quite a few resin printers and samples showing miniatures and action figures, much closer to the needs of a wargamer. Resin printers are a bit more difficult to run and in the consumer field, the printing area is rather small so only works for smaller prints / pieces and is quite time consuming.
In the Sweetwater board they gathered a few printing services and file databases. I thought that would be an interesting opportunity to try out a few things, so I placed an sample order at FDM Druckservice for 15 bucks with a couple of files that I found on thingiverse.
The order should have a production and delivery time of 7 to 14 work days, it took a bit longer just over 3 weeks, so that might be due to carneval. The package was shipped insured and the items were properly packed. I went for a variety of bits in 8mm scale.
To give you an understanding of the difference between FDM and resin. The drop pod on the left was printed SLA/DLP in black resin, the two on the right FDM printed in black ABS. The resin print had a layer thickness of 0,025mm, the FDM print 0,1mm with a nozzle diameter of 0,4mm. The difference is clearly visible. For gaming miniatures I would clearly prefer the resin print, but for terrain the FDM is absolutely sufficient. For comparison the resin droppod cost me about 3,50 EUR and the ABS ones 1,10 EUR per piece.
You could post-process the FDM models with gap filler or an acetone steam treatment, to soften the steps.
Another resin test print was a group of parts. I have a few Cerastus knights yet unbuild and I was looking for ways to convert them into the Acheron variant. I found a matching stl file set and had it printed, for a total of around 4 EUR. I am quite happy with the result, details are good, the edges are crisp, yet due to the most recent announcement from GAMA it is obsolete, as the Acheron and Castigator will be released by Games Workshop.
The last few pieces from the sample order are an armoured container, a terminator in 8mm scale and a Horus Heresy predator as well in AT scale.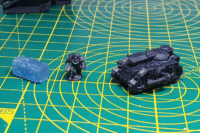 The scaling is well done and fits great with the old epic Rhino and Land Raider. The predator cost me 3 EUR. The armoured container was totally off-scaled and is just 25% of the size it would need to be. Due to the Manufactorum Imperialis kit, these are more or less obsolete as well. Especially as the small one is quite expensive at 1,30 EUR for that too small size.
The terminator is amazing in detail, yet a bit large, as it is not the old 6mm but 8mm scale, but a great choice to have more heroic and present tartaros terminators. A full squad will cost you quite a bit, as the single terminator is 0,70 EUR and for comparison other manufacturers of alternative epic miniatures charge about 8 GBP for 40 of similar sized miniatures.
It took a bit longer for the shipment to arrive than communicated. I am fine with that, as it was special and custom made order. Beside the container, everything created a usefull result and pricing is beside the Terminator competitive. Infantry I'll most likely order from Onslaught or Vanguard miniatures, but the vehicles are a great deal and proper print. I can surely recommend FDM as a printing service.
I talked with friends who have resin printers of their own, but even some of the smaller prints took up to 7-10hrs to print and they still would need a bit of try & error to calibrate and configure for the pieces that I'd wanted to print. So outsourcing these items to a service, especially at the prices for the 6-8mm scaled items, is a valid option.
I may need to find some open drop pods, to be placed as scatter terrain and a few more tanks and maybe tracked or damaged vehicles, to place on bases or the corner of terrain / ruins, to give them more live. I have the need for some items for Black and Cruel Seas as well, maybe a few pirate fortress or the Maunsell Forts in the english channel.
Enjoy this article?