Let me sum up this week. I'm currently preparing the review on Warhammer Quest Blackstone Fortress. If you pre-order it, many stores will give you posters and a poker chip as a bonus. And I already gathered a couple of miniatures for the scale comparison shots. In case you have any wishes, what I should cover within the review, just let me know and I'll try to put it into the upcoming article.
Beside that, as I wrote in the recent modern combat article, I am / was looking for diecast cars in 1:43 and I found some in Italy. I'll cover the haul in a blog post of its own. Will be used with modern (and not so modern) scenarios as well as Zombie Survival.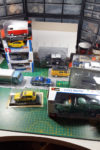 Then I was at formnext on wednesday, it's a show for additive manufacturing, so lots and lots of 3d printers there. From the consumer brands up to large industrial ones. I took a couple of pictures of the printed items, as there is lots of potential in there. The tank in the first picture was cnc manufactured, and I even found a video on youtube on this one; Jingdiao CNC Machines.
And there was a company from Germany, RuhrSource, who is an distributor for 3d printers and offers training and consulting around additive manufacturing. Just look at the miniature left, it was SLA resin printed, the Groots on the right were PLA. We'll keep in touch and you will see some more of them and their products on here.
Yesterday, on friday, was the store anniversary of the Warhammer store in Koblenz. I dropped by after work briefly. They had cake and you could pop a balloon for every 30 EUR spend and have the chance on quite a broad range of prices (books, artprints, accessoires).
So this was the collective summary of this week so far. I'm working on a couple of reviews, that will go online until the end of the year. Of course you can expect the Blackstone Fortress review on release day, and I'll have an epic review series for Christmas in preparation as well. Stay tuned and come back soon!
Enjoy this article?