With the Manufactorum Imperialis Games Workshop released this month the third terrain plastic kit for Adeptus Titanicus.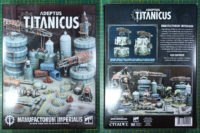 At a price of 40 EUR is a bit more expensive than the Civitas Imperialis and the Spires kit, so let's see what the higher price tag covers? Rather clinical descripted by the manufacturor as a 26 piece terrain kit, we should spend the time to see what that means.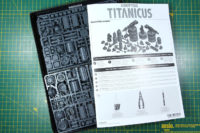 The terrain set covers two different sprues, a large and a medium sized one. Each one is included two times with this kit. This terrain kit is as often manufactured in China, but the details and the casting quality has even improved over the last already better sets of the last year (the details are much crisper). Mould lines are found here and there, but no bigger problem. As you can see, the sprue is tightly packed with bits. A bit more than the description "26 piece terrain kit" would make you believe.
It is a bit hard to decide where to begin, as the overall options are quite broad and cover a lot of variety beyond the instructions. But let us begin with the largest parts, the silos, that can be build in different ways. The pieces are halves and come in two different lengths. By that you can stack them if you want (as the bottom tier is open on both sides you could stack multiples of these). With these parts I build a large standing silo, a small plateau and two halves as generators / larger tent structures.
The standing silo has ladders and platforms to form a more realistic finish, for miniatures to reach the top level.
The top needs to covered, for that the sprue has multiple designs of domes in the same diameter. These are kept in different designs and function. You can use them on their own directly on the table or on top of other buildings / structures (for example with the Civitas Imperialis kits or plastic lids).
You don't need to glue them in place, as they stick by joints to the silo. One of the structures is a base plate for the crane, that we will build further below.
The round tents have caps on both ends. One of the domes from above is build from two halves, these halves have a second function as caps for the tent structures. The tent structures could be prolonged with the small silo halves if you want to build larger structures.
One of - if not the most prominent piece from this kit, is the crane. It is build from multiple pieces, has a great level of detail (for example the large concrete blocks as a counter weight) and comes with two different types of hooks. One is a simply rounded hock, the other one for containers. Containers?
Yes, they added the Munitorum Armoured Containers in small 8mm scale to this kit. A total of four of them, along with drums and two tanks. The containers are build with doors, and you can decide to build them closed or open.
You can add one of the containers to the crane if you want to. There are two of the cranes in this kit. You can build one of each, for cargo purpose or build a large forge world, where a titan is build or maintained. Or drop it on the base of a Warlord.
But the large silos aren't the only ones in this kit. There are smaller 25mm and 18mm diameter ones in here as well. The instructions don't cover it, but you could build these as halves and build them flat like the other ones. As the diameter is the same as the toppers of the silo, you could build a very high towering silo.
You might wonder about the small connectors on the bottom, there are there for a reason.
This kit covers next to silos in different sizes and a crane, even pipelines. They come with a wide variety of connectors, curves and end pieces, that you can very freely build your own network. I went with the suggestions from the instructions. The bits shown in the first picture are only from one sprue, so you have twice the amount to build. The second and third picture show the entire build (with a few left over connectors and two straights).
There are a few toppers and small domes that have different diameters. Some of them can be added to the silos or stand on their own. I really like the modularity and how you can swap them among eachothers.
Last but not least a generator array. You could build two medium or a larger one and a single row. These can be connected with the pipelines if you want.
And the whole set build, without the few spare parts left. Quite the load, for my taste they would be enough to fill a proper segment of the table. Spread them out a bit and you have a good section of 2' by 2' / 60 x 60 cm covered.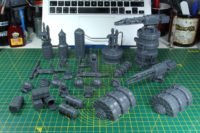 I was pretty sure, that I saw some of the pieces before hand and I was right, as I even grabbed pictures of the containers on my visit to Warhammer World in January 2020. And I think that I saw some of the silos being used with 40k dioramas as 3-ups, but couldn't find pictures of that. Well, we'll see.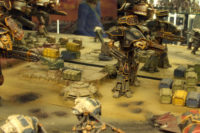 To give you an idea of the size of these buildings and how much cover they do provide, a brief comparison next to the Warlord, Reaver, Warhound and Questoris Knight.
Some of the smaller / lower pieces from this kit make for perfect base detailling. Of course you could embed them much better than I did in this quick shot, but you get the idea.
Conclusion
I had a lot of fun building these. It took quite the time, but that is a proper indicator that there is a lot of content in a kit, if it takes you a bit extra to build all of it. A broad variety of industrial items, a lot of modularity and a decent price tag. What's not to like? Honestly, I think I need a second one of these, so that I can build some proper bases for my titans and build some of the variants that even two sprues of each didn't let me do.
Games Workshop offers this very versatile kit at a price of 40 EUR and to be honest, that sounds like a hard blow for the Forge World bundle. If you are one of the few lucky ones, that have the old Forge World Aeronautica Terrain / landing pads, this set is a must have expansion to build an Imperial Navy airfield. It would be lovely if Games Workshop or Forge World would re-release those with the upcoming second set for Aeronautica. I know that due to the hex field nature of the new edition there is little chance, but it would be a great piece of terrain for Adeptus Titanicus and would bind the two systems closer together.
There is no doubt, this is a must have for any Adeptus Titanicus or Epic 40.000 player. It has a very good value, offers buildings and structures of different size and style, and amazing versatility. You can build them on their own, as a refinery, combine them with the other AT terrain kits for a more manufacturing plant look and / or use them for base details. Especially the last point really points out the value, as some of the resin bases that I have seen for AT are incredibly expensive and this kit provides quite some coverage for that purpose.
Warhammer 40.000 and Adeptus Titanicus are brands by Games Workshop.
The reviewed product item was provided by the manufacturer.
Enjoy this article?