To create the Sd.Kfz. 7/1 variant, the Selbstfahrlafette 2-cm-Flakvierling 38 auf Fahrgestell Zugkraftwagen 8 t (self-propelled anti-aircraft half-track), I'd need flakvierling kit by Rubicon.
These kits are already planned in a way to be combined, so it can be build either as a weapon team of itself or optional mounted on the flatbed of the Sd.Kfz. 7.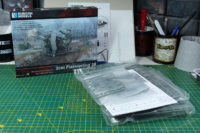 The kit comes with a crew, of which I am not really fond, so these will be replaced with the proper crew from the Perry Miniatures as range, as this vehicle and AA-gun will be deployed with my Afrikakorps.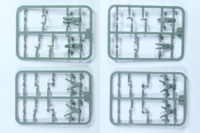 It can be build deployed or town, and as such the sprue covers the Sonderanhänger 51 (SdAh 51) to tow the gun or the ammunition carrier SdAh 52. The later would be town behind the Sd.Kfz., that would deploy the gun on the flatbed (doesn't need to be the Sd.Kfz. 7 but could be an Opel Blitz as well).
As mentioned above, the AA-gun will be placed on the back of a Sd.Kfz., so I decided to build the trailer as the ammo carrier SdAh 52. The kit covers the option for the tow to be build open, with access to the ammo racks.
The gun itself can be build either in tow or deployed mode and the deployed variant can be angled / elevated to actually shoot aims in the sky.
The Flakvierling was added to multiple vehicles, not only the Sd.Kfz. 7 but Sd.Kfz. 6 as well, and the Opel Blitz as shown below. Even covering two variants upon the Panzer IV, as a Möbelwagen or Wirbelwind.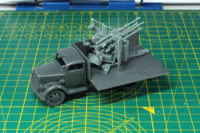 I am still undecided on the Sd.Kfz. 7 variant. The armoured cab variant still is of high interest, yet historical incorrect for the mediterranean / african theatre. So I was thinking of either ditching the appeal of historical correctness all in all, or go for a semi armoured cab, like a field conversion that would be half-way there. I'll have to think about that a bit more.
Enjoy this article?