We have the undivided squads set with Chaos Terminators and regular Chaos Space Marines. Let's take a look at some Chaos Space Marines with a dedicated mark of a chaos god. And of course that has to be the mark of the most powerful of them all - KHORNE!
There are multiple ways to do so, you could give the mark to regular CSM, choose a chapter devoted to the Blood God or go full in, with the renegades of the World Eaters. Back then, they were not yet Khorne Berzerkers, but "regular" very frenzy CSM of the XII legion.
These Worldeaters (sic) got a mono-pose plastic kit, and depending on which year we're looking at different metal miniatures.
The Rogue Trader chaos range is a wild bunch. Very fluid in interpretation and many of the nowadays known themes not fully developed. Among the realm of chaos range of the late 80s was a section of Renegades. These were "generic" futuristic chaos forces so far. The designs were influenced by certain chaos gods, but the names were not given yet. It took until 1991, that the Chaos Renegades were devoted to the different chaos gods by name, thus presenting the Chaos Renegades of Khorne.
A first step towards the Bunny-ear helmets of the Khorne berzerkers came with the 1992 - World Eaters of Khorne, and was further expanded in 1993 into World Eaters of Khorne Assault Marines and very Berzerker looking troops, only armed with Bolters instead of the close combat and pistol combination. Those were first seen in White Dwarf #170, February 1994 and 2 GBP per miniature.
The first plastics were introduced in 1994 as World Eaters Chaos Space Marines (not World Eaters being written as two words and not as a single one, like on the box above), very early into the 2nd edition for Warhammer 40,000. Chaos Space Marines had already seen plastics at that point, but not specific ones of the gods so far. This boxed set was shown in the White Dwarf issue of January 1995. Later in 1996 the set was repacked into a box of 5 and "rebranded" as Khorne Berzerkers, to be part of the large Chaos release for the 2nd Edition in July 1996.
The early kit covered 10 plastic miniatures, each one packed in a single sprue, with a separate arm and backpack.
In November 1996 the plastic Khorne Berzerker got support with individal metal miniatures. Those coveres multiple Berzerker Champions as well as an Icon bearer. Those are single casts, beside the icon bearer who had an additional piece - the icon. All of them came with a backpack and arm set made from plastic.
In march 1998, as part of the 3rd edition, the Khorne Berzerkers received a multipart plastic kit. One of the first that covered that dynamic poses. And that kit is still around, more than 20 years later, as you can see in the third picture (that's from current Games Workshop online store, date 02/2020).
Forge World released in the mid 2000s a resin upgrade set, to convert the plastic Chaos Space Marine kit (already updated in 2019) into blood lusting World Eaters. Not in the picture are rather fragile Chain axes. Another source to convert more modern / recent Khorne warriors would be the Bloodbound Bloodwarriors (with the new 2019 CSM kit). There are some proper pictures and ideas on Warhammer Community, if you want to check up.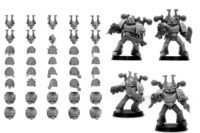 So, quite the broad offering on models. What to go with? Well, as we're doing a second edition project, that narrows it down a bit. The half-naked Assault marines just didn't appeal to me. The regular World Eaters with Bolters aren't a good fit for the frenzy warriors of Khorne. The metal miniatures from 1992 are incredibly hard / expensive to come by. So I decided to go for the plastic kit. Monopose normaly would be a no-go for me, but as this squad would only be proper 8 soldiers big, with two of that being different sculpts, that should work. Beside it's going to be the only plastic squad so far.
I managed to acquire an almost untouched set from spain for less than 20 EUR, with some of the models still on sprue and even incl. the decal sheet. And six of them will be assembled later on.
But they won't stay on their own. They need a proper leader and banner. These set me back 8 EUR for the champion and 6 EUR for the icon bearer. Often those come without the back pack and / or weapons. As with the regular Chaos Space Marines, sometimes newer plastic arms are mixed in and can be a work-around to replace missing bits.
I decided to go for the Champion carrying a large chain sword, to better fit with the remaining squad. And to give you an idea of the size of these, here's a scale comparison of the old Renegades, the new and old Berzerkers, the Bloodbound from the AoS range and a new CSM.
What about the greatest champion of Khorne of them all - Kharn! Of course the betrayer would be included. Maybe more appropiate for a whole World Eater warband, but I like the model and may use it as a mighty or exalted Chaos Champion in regular games. The 2nd edition Kharn is a 4 piece metal miniatures, main part is the body, with a separate head, plasma pistol and backpack. It was released between 1996 and 1997.
By now Kharn the Betrayer got an update with a new plastic model in 2016. Very true to the 90s miniature, but more dynamic pose and lots of influence from the new AoS blood warriors. A mirror of the Pre / Horus Heresy Kharn model offered by Forge World, as Kharne the Bloody before the great betrayal on Skalathrax.
So what does this Khorne wing of Abaddon's Black Legion bear point and price wise.
A Khorne Berzerker squad of 6 is 210 Points excl. gear, all of them have chain swords +12 pts, and krak grenades +18 pts. The unit is lead by an aspiring champion with the Mark of Khorne at 45 pts costs, who has a chain sword +2 pts, krak grenades +3 pts and a Mk I plasma pistol, +5 pts. On top of that, the unit is accompanied by a Khorne Berzerker carrying the army icon at 55 pts, of course with the Mark of Khorne (+ 15 pts), a bolt pistol and krak grenades +5 pts. As an army icon the banner of rage is chosen, +35 pts.
The unit has a total of 405 points incl. the champion and icon bearer.
And the only named character worthy of the mark of Khorne, is Kharn the betrayer. 157 Points blank and 217 incl. war gear as stated in the codex, blessed with the Praise of Khorne, Blood Fury of Khorne and wielding Gorechild.
This upgrade adds 622 points and costs of 39 EUR to the project.
For this Black Legion project I went with two of the dark gods and Khorne will be take this role along side with Nurgle, so the next batch of CSM with a mark will be the contagious Plague marines.
Warhammer 40.000 2nd Edition 1996+ Chaos Army Project "Abaddon's Black Legion"

Models count: 33 miniatures
Point value: 2,073 Pts (Characters 875 / Squads 1,198 / Support 0 / Daemons  0)
Project costs: 129.98 EUR
Enjoy this article?