Near completion! I'm very happy to announce this. I made significant progress on the Mordheim Marauders, after the last update mid-February. A second wash on the long fur on the beast men. And let that thoroughly dry.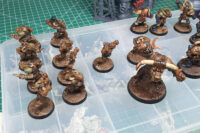 After that, I added the second highlights to the miniatures, very close to what I did with my Chaos warband.
You read the introduction of the Mordheim Marauders in the first part, I had them primed and started painting, keeping close to my recipe for Beastmen from the Realm of Chaos Warband.

After the initial introduction of the roster and lineup of the Chaos Team, it is the time to get started.