Getting closer to the completion of the first Chaosbunker Blood Bowl League (CBL) franchise, the Mordheim Marauders. And it was time for Groundskeeper Willie to do something about the turf.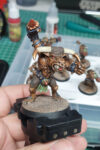 I know, the home stadium of the Marauders is the The Pit (located in the eastern part of the City of Mordheim with a capacity of 66.400 people), and is a cinder pitch. But I wanted something, that would work in line with the card board pitches that I have and across the teams. So I used Army Painter Field Grass (a bit lighter / greener than the flock I used with my beastmen warband) and glued it to the bases with diluted PVA.
I left of some corner and stripes, to give the look of a fantasy football pitch, and have room to add the white lines of the pitch markings.
After the glue had dried, I added with P3 White stripes over the sand and parts of the grass, where appropriate.
So the only thing missing are the decals, for the Marauders to enter the field. For that I gathered a few decals from my wargaming buddies, and have now access to new and old ones. But more on that in the next article.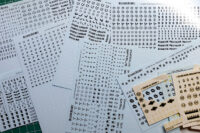 Enjoy this article?